---
Everyone loves a murder mystery, especially if the murder happened a long time ago and did not involve someone they know. The story of William Marsh Rice's demise is such a case, especially since I am a beneficiary of his will. Let me explain.

William Marsh Rice was born in Springfield, Massachusetts, in 1816. Rice revealed shrewd business acumen, even as a youth. He moved to Houston, Texas, in 1837, fleeing the Panic of 1837 and seeking his fortune in the Republic of Texas.

Rice began his business career in Texas selling liquor in the bar of the Milam Hotel in Houston, but soon became a merchant, an importer-exporter, railroad-promoter and investor, cotton ginner and shipper, landowner-just about anything that turned a buck. Although Rice owned slaves, he favored the Union side in the Civil War. He left Houston for Matamoras during the conflict-still in the cotton trade-but moved to New Jersey afterwards and finally to New York City before the century ended, though he retained investments in Houston, which eventually included the Rice Hotel. Along the way Rice amassed a fortune that exceeded $3 million.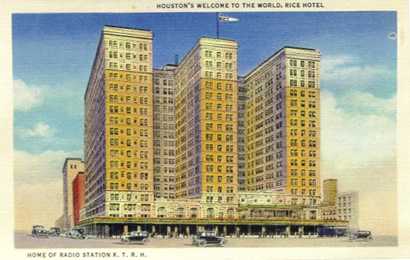 Rice Hotel
Postcard courtesy rootsweb.com/%7Etxpstcrd/
Rice was married twice, but childless, so he left the bulk of his estate to establish The William Marsh Rice Institute "for the advancement of literature, science, and art." The Institute was supposed to be located in New Jersey and reserved for white males who attended without tuition.
Administration Building, Rice Institute
Postcard courtesy rootsweb.com/%7Etxpstcrd/
Rice was murdered by his valet, Charles Jones, and an attorney, Albert T. Patrick. Patrick forged papers to gain control of the estate and the butler did the deed and expected to profit as a beneficiary of Rice's will.

Houston associates, especially James Baker, successfully fought Patrick and gained control of the estate. The governors of the Rice Institute broke the will to locate the institution in Houston, nearer its assets than New Jersey; later courts decided to adjust the will to admit women, then African Americans, to change its name to Rice University, and finally to charge tuition.
The "New" Rice Stadium in 1951
Postcard courtesy rootsweb.com/%7Etxpstcrd/
Here is how I, even I, became a beneficiary of William Marsh Rice's will. In 1958, someone made a mistake and admitted me to the Institute's graduate program. Greatest educational bargain imaginable. I paid a $75 "registration fee"-not tuition, and that included passes to athletic competitions, campus newspaper subscription, and I don't know what all. That hardly would pay for a single hour of instruction today.


© Archie P. McDonald, PhD
All Things Historical > October 9, 2006 column
A syndicated column in over 40 East Texas newspapers
This column is provided as a public service by the East Texas Historical Association. Archie P. McDonald is director of the Association and author of more than 20 books on Texas.

Related Topics:
People | Texas Murders | Houston | Rice, Texas |