---
The winding Rio Grande
TE photo, December 1999
Blanco River Feature

Blanco, Blanco State Park, Five Mile Dam
Canadian River Feature
Colorado River
Highland Lakes and Dams Feature
Dams: Tom Miller Dam, Mansfield Dam, Max Starke Dam, Wirtz Dam, Inks Dam and Buchanan Dam
Lakes: Lake Austin, Lake Travis, Lake Marble Falls, Lake LBJ, Inks lake, and Lake Buchanan
Rafting Cotton from Bastrop to Matagorda by Mike Cox
During the 1840s and continuing through the Civil War, Central Texans saw the Colorado River not so much as a source of drinking water or place to fish as a transportation artery connecting them with the Gulf of Mexico.
Comal River - Feature

New Braunfels, Landa Park, Hinman Island Park, Prince Sohms Park, Tube Chute
Cypress River - Caddo Lake
Devils River - Devils River State Natural Area

The Naming of Devils River by Mike Cox
Frio River (Rio Frio)

Frio River near Frio Town (Images)
Guadalupe River - Feature

River Road, Kerrville-Schreiner State Park, Guadalupe River State Park, Cascade Cavern, Louise Hays Park, Max Starcke Park
Llano River - Feature

Llano River (Images of bridge and dam)

South Llano River
Navidad River
Wild Navidad by Mike Cox ("Texas Tales" Column)
The Navidad River is only 74 miles long but it is as tangled in history and folklore as the vines and trees along its banks.
Neches River
Neches River by Bob Bowman ("All Things Historical" Column)
"While environmentalists and water developers duel over the merits of preserving the Neches River, the debate has largely overlooked the river's history. Sometimes called East Texas' last wild river, the Neches has been flowing though eastern Texas longer than any of the remnants of mankind, even the earliest Indians."

Fort Teran by Bob Bowman ("All Things Historical" Column)
Hidden deep in the woodlands bordering the Neches River are the last remains of what may be the earliest fort built in East Texas. And, perhaps, a buried treasure.
Neches River in Beaumont, Texas - Images
Paluxy River


Pecos River - Feature River

The stories, information, towns, trips and images
Pedernales River
Pedernales River - Pedernales Falls State Park
Feature
Rio Grande
Rio Grande - A Flatboat Named Enchilada -
Hot Springs in Big Bend National Park, Crossing the Rio Grande ...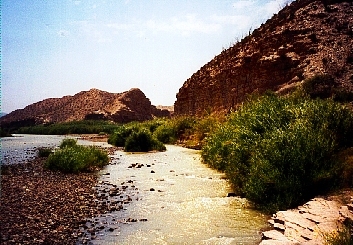 Rio Grande at Big Bend
TE photo, December 1999
---
Sabinal River
"Arroyo de la Soledad" AKA Sabinal River

Sabine River ( Sabinal, Texas Hill Country Ghost Town)
Sabine River
Adams-Onis-Treaty by Archie P. McDonald ("All Things Historical" Column)
We have regarded the Sabine River as the boundary between Louisiana and Texas, at least most of it, all our lives, but this was not so until 1819...
Sabine River ( East Texas Sunday Drive)
San Bernard River
Kendleton, Fort Bend County photo only
San Gabriel River - Feature

San Gabriel Park, Blue Hole
San Saba River - Feature
Mill Pond Park, Risien Park


San Marcos River


San Marcos River in San Marcos
The river with its constant temperature of 71 degrees is the only place known where Texas wild rice grows.

Aquarena Springs
Aquarena Springs is primarily the source of the San Marcos River, rising from hundreds of fissures under Spring Lake.

Zedler's Mills in Luling<
After nearly four decades, Zedler's Mills is revealed from Nature's green cloak.
Trinity River -


A Steamboat's Tale by Bob Bowman ("All Things Historical" Column)
"Lying in the Trinity River at Parker's Bluff, near Palestine, a cluster of remnants from an old sidewheeler steamboat serve as reminders of an era when cotton was king in much of East Texas...."

Trinity River - Navarro Crossing 3-16-12
---
Springs and Falls
Aquarena Springs, San Marcos, Texas Feature
Barton Springs and Zilker Parks, Austin's Crown Jewel Feature
Colorado Bend State Park, Six miles of Lake Frontage Feature
Davy Crockett Spring, Crockett, Texas Feature
Dickens Springs, Dickens County Spring Park, Dickens Texas
Hamilton Pool, Hamilton Pool, Westcave Preserve Feature
Krause Springs, Spicewood, Texas Feature
McKinney Falls State Park, McKinney Falls Feature
Soda Springs, North end of Soda Lake
"The Eyes of Father Margil" - Twin springs on LaNana Creek
Tinaja, natural spring swimming hole (vintage photo)
Woodville - In the roadside park beside U.S. Highway 287 northwest of Woodville is a spring-fed pool built by Civilian Conservation Corps workers in the 1930s. (From "Out-of-the-way places" by Bob Bowman)
A landmark spring runs from a hillside beside U.S. 175 north of the Neches River southeast of Frankston. (From "Out-of-the-way places" by Bob Bowman)

Canals


The Lone Star Canal - Anahuac, Texas, Chambers County
---
---
---
---
---