---
Food & Beverages
Fascinated by food facts by Delbert Trew
About ketchup, pinto beans and chili
The Great Blackeyed Pea Hoax by C. F. Eckhardt
Did you eat blackeyed peas for good luck on New Year's Day? Did you do so because it's a 'great ante-bellum Southern tradition?' If so, congratulations. You have been scammed by one of the most likeable con-artists in Texas history...
A Short History of Beer in Texas by Clay Coppedge
Biscuits by Mike Cox
"...Back when or now, cooking biscuits involves more than combining the ingredients and baking the result. As the "McLintock" scene suggests, good biscuits almost do seem divinely inspired..."
Biscuits, even the 'whomp' kind, make world a better place by Delbert Trew
All biscuits talked about so far have been "made from scratch" using mostly flour, baking powder, soda, shortening, a pinch of salt and milk or water. This mix has to be rolled flat, cut or formed and allowed to rise in a warm place, leaving a big mess in the kitchen. In the end, seldom did a batch of biscuits turn out exactly like the last effort, although the same measurements were used.
Bison: It's not just for Native Americans anymore. by Brewster Hudspeth

Bread by Mike Cox
Official state bread of Texas
Butter - All types of things happened when making butter by Delbert Trew
Chicken and Dumplings by Mike Cox
The Great Chicken-Fried Steak Hoax by Mike Cox
Ever wonder how a legend gets started? I had a small role in the creation of what has become one of Texas' most enduring pieces of "fakelore" -- the story of the invention of the chicken-fried steak.
Chili by Mike Cox
How chili came to be, canning chili, chili con carne, "Chili Queens" ...
The Naming of Chili by Luke Warm
National Dish of Texas by C. F. Eckhardt
Chili con carne is the national dish of Texas. It was invented in Texas by Texas natives-literally-and it's made right only in Texas...
Churros by Maggie Van Ostrand
Don Churrero - "The churro cannot be 'made,' it can only be created. Further, the churro's creator must be touched by the hand of God himself, for to partake of the delights of a churro is to know heaven on earth."
In Praise of Texas Corn by Clay Coppedge
While it might be a stretch to think of corn as a native Texas plant, it comes close...
Early Texans relied on corn for cakes, livestock by Delbert Trew 11-23-10
To the early Texas settlers, raising corn was a matter of life or death.
Cornbread - 'My mama's cornbread' discussion gets hot by Delbert Trew
Caffeine - Want to know how much a caffeine addict you are?
by Dr. C. K. Wong, M.D.
Coffee, tea, CocaCola, chocolate .....
Coffee - "To Drink or Not to Drink"....your cup of coffee
by Dr. C. K. Wong, M.D.
To drink or not to drink, and how much ....

Dewberry by Mike Cox
Rubus trivialis, or southern dewberry, and dewberry Cobbler recipe.
"Full of vitamin C, dewberries also have lesser amounts of vitamins A and B, along with minerals. And they taste good, sweeter than their relative, the blackberry."
Hamburger - Inventing the Hamburger by Bob Bowman
When Hamburger University, the McDonald's training school and research group, went looking for the origin of the hamburger some years ago, they concluded that it was introduced at the 1904 St Louis World's Fair by an anonymous food vender. But it wasn¹t until the 1980s that it was discovered that the vendor was from East Texas.
The hog, the whole hog, nothin' but the hog by Delbert Trew
Pittsburg's Hot Links by Bob Bowman
Few East Texas foods are as well-known as those spicy sausages, better known as "hot links," served at Pittsburg (the one in East Texas).
Hushpuppies by Bob Bowman
The annual Southern Hushpuppy Cookoffs in Lufkin
Mayhaws: A spring delicacy by Bob Bowman
Mayhaws are to East Texans what blueberries are to Maine.

Metheglin by Clay Coppedge
Metheglin, the brew, has fared well in the intervening years. From being the drink-of-choice for intemperate settlers, it's now bottled and rhapsodized over like fine wine. Spicing appears to be the key to quality metheglin.
Milk - Got sweet, skim, sour, butter or scalded milk? by Delbert Trew
Moon Pies by Bob Bowman
A friend sent our family a couple of Moon Pies a few days ago. Our first reaction was: "Are Moon Pies still being made today?''
Texas Onions by John Troesser
"The Mother of All Sweet Onions": the Texas Grano 502, and the Vidalia onion
Peaches by Mike Cox
The peach tree outside the old stone structure in Burnet at the site of Fort Croghan and Mrs. Ross' Croghan Cobbler recipe...
Psychic Persimmons by Dana Goolsby
Folklore reveals that superstitions about cutting persimmon trees may help cure warts, cancer and even predict weather, even Texas weather.
Potatoes - Once lowly fare, potatoes enjoy popularity by Delbert Trew
Pumpkins by Mike Cox
Salt of the South by Clay Coppedge
"The Confederate Salt Works at Lometa operated in a manner common to France and Germany but almost unheard of in the south."
Tortilla - "It Takes a Tortilla…" Mexicans Turn to an Ancient Reliable Snack by Sheila Mayne
Tacos are categorized and labeled according to both their mode of preparation and according to their filling. Taco stands usually have a sign indicating which type of taco, by preparation and/or filling, they sell.
Wine - Hitting the Marc by Byron Browne
The wine industry in Texas is blooming. The Texas Agriculture Department lists almost 120 wineries in the state and reports that as of 2007, Texas is this country's 5th largest producer of grapes and wine. For anyone who has traveled to west Texas or the Hill Country...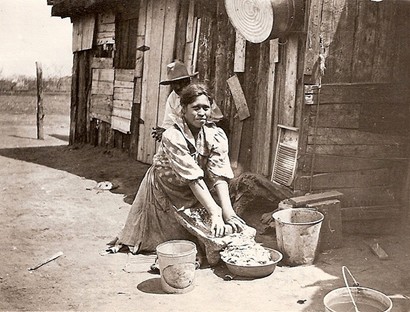 ---
Food Preparation, Traditions, Stories & History
---
---
Texas Food Capitals
Food Capitals & Towns with Food in their History
---
Food Mysteries
Relationship Status: It's Complicated or Killer Soup by Mike Cox 5-9-18
Arsenic Poisoning in the 1800s.

Poisoned Supper by Bob Bowman
A tragic, unthinkable incident in the spring of 1847, frequently associated with the Regulator-Moderator War, remains after 157 years one of East Texas' worst mass murders -- if it was murder.
---
Cartoons by Roger T. Moore
---
---
---
---