Most historians spend a considerable time in libraries and, invariably, many of them gravitate to the Jefferson Library, which has a unique history of its own.
Jefferson's ornate library
Photo submitted by author
As the Marion County community moved from the l9th to 20th century, the people of the town looked around for ways to restore their city to the prominence it enjoyed as an inland port area in the mid-1800s.

Building a good library became a major project.

Jefferson already had a library located on Walnut Street, but it had only 200 books and asked for a usage fee of $1 per person a year. So in an effort to revive trade in the business district, the women of the Jefferson Library Association proposed that for $30 a month, they would furnish downtown "rest rooms" to local people and visitors alike.

"The rest rooms will be a place where merchants can take customers for social intercourse and to learn to know them personally. The cost will be small, but in the days to come, it is certain to bring fruit," the proponents wrote.

The plan apparently flopped, so the ladies of the Association tried something else: a ten-cent tea in the library to buy badly-needed bookcases for the 200 books.

A year later, the Association received a $7,500 grant to build a library from the Andrew Carnegie Foundation in Pittsburgh, Pennsylvania, with the stipulation that Jefferson provide a budget for its upkeep.

Carnegie built a host of libraries in Texas. The first, ironically, was at Pittsburg, Texas.

In 1907, J.F. Berry of Morris County won a contract to build Jefferson's library with a bid of $8,750. The Jefferson Jimplecute praised the project: "In the good old town of Jefferson, which has figured more in the formation and upbuilding of teeming Texas than most any other city...the town is again assuming its sway of ancient supremacy as a leading city and center of a superbly rich county in Northeast Texas."

The library brought recognition to Jefferson and today, only two of the original Carnegie libraries built as a result of Andrew Carnegie's gifts, Hearne and Jefferson, are still used as libraries. Others remain standing, but serve other uses.

Between 1886 and 1919, Carnegie donated more than $40 million that paid for almost 1,700 new libraries across America.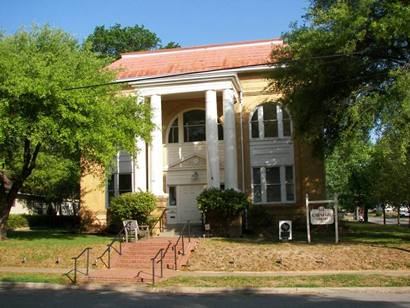 Jefferson Carnegie Library today
Photo courtesy Barclay Gibson, April, 2006
More than a century after it was built, Jefferson's library continues to serve Jefferson and Marion County, but with considerable improvements, including an elevator and an outside facelift.

The library is privately funded. A pie and cake auction each July Fourth raises $4,000 to $5,000 for the children's book section and a golf tournament provides additional thousands.

Our thanks for Vic Parker of the Jefferson Jimplecute for helping us with this story.


Bob Bowman's East Texas
March 22, 2009 Column.
A weekly column syndicated in 70 East Texas newspapers
---
Texas Escapes, in its purpose to preserve historic, endangered and vanishing Texas, asks that anyone wishing to share their local history and vintage/historic photos, please contact us.