History in a Pecan Shell
Settled in 1835, the community got its post office (in Issac Nelson's cabin) in 1853 when it was hardly more than the juncture of two roads. The post office closed in 1859 but was reestablished eight years later.

In 1870 the towns first livery stable was opened and its owner B. F. Nidever started a stage line to Cooper. The population reached 200 by 1884 with all essential businesses in place – including a restaurant.

In 1886 the Gulf, Colorado and Santa Fe Railway came through just north of the town and three years later the town became a stop. The population swelled to 1,000 by 1890 and businesses grew to include two new hotels by 1892.

The Texas-Midland Railroad arrived in Delta County in 1895 to serve other towns and this diminished both Ben Franklin's status and economy.

The population fell to just 343 by 1904 and only two businesses survived. By the mid 1920s the decline settled at 300 residents – but the remaining two businesses had closed their doors.

1929 showed an increase in population (500 residents) and new businesses opened. Postwar departures for better jobs left Ben Franklin with a mere 150 people by the mid 1960s.

The current (2006) estimated population of 75 has been used since 1990.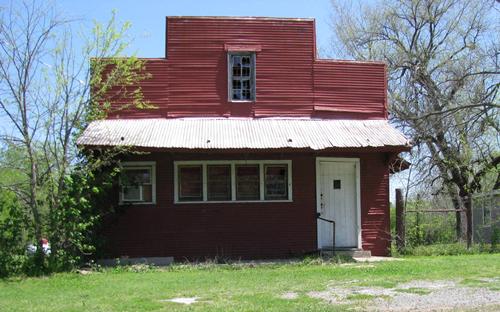 Giles Academy Historical Marker
Photo courtesy Mike Price, April 2008
Texas Escapes, in its purpose to preserve historic, endangered and vanishing Texas, asks that anyone wishing to share their local history and vintage/historic photos, please contact us.
Custom Search