CARROLLTON, TEXAS
Dallas, Denton, and Collin Counties, Central Texas North

32° 57' 13" N, 96° 53' 25" W (32.953611, -96.890278)
Interstate 35 E
14 Miles NW of Dallas
Population: 133,351 Est. (2016)
119,097 (2010) 109,576 (2000) 82,169 (1990)

Book Hotel Here › Carrollton Hotels
Carrollton Downtown Mural
Photo courtesy Clint Skinner, February 2019
History in a Pecan Shell

Settlement began as early as 1842 with William and Mary Larner credited as being first. The community is thought to be named after Carrollton, Illinois, the hometown of many early residents that transmigrated here.

The first Baptist church in Dallas County was established here in 1846 by Illinoisan David Myers. A plat was filed for the town in 1878 and post office was granted that same year. Railroad magnate and robber-baron Jay Gould bought an unfinished railroad and extended it to Denton by 1880 selling it to the MKT the following year. The population was a mere 150 in the mid 1880s but Carrolton was a railroad crossroads (The Katy and Cotton Belt) by 1888.

Industries in Carrollton included a gravel industry, brick manufacture and metal furniture. From a population of only 1,610 in 1950, it grew to 4,242 by the 1960 census. Twenty years later it was over 40,000. In 1983, it reached 52,000.

Carrollton is included in a group of four Dallas cities referred to as "The Metrocrest." Addison, Coppell, and Farmers Branch are the other three. The 1990 population reached 82,169, and for the 2000 census it was reported as 109,576.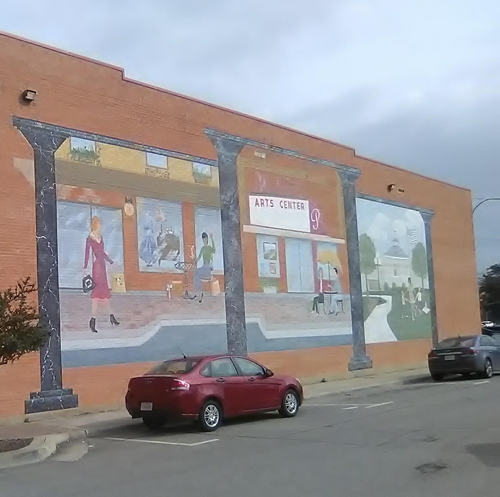 Photographer's Note:
" I recently went to Downtown Carrollton and took these pics of Carrollton Plaza Arts Center, which opened in 1949. It hosts local plays and musical entertainment." - Clint Skinner
Carrollton Police Station Grounds
Photo courtesy of Stephen Michaels, April 2005
---
Texas Escapes, in its purpose to preserve historic, endangered and vanishing Texas, asks that anyone wishing to share their local history and vintage/historic photos, please contact us.
---