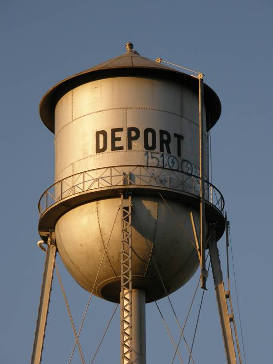 History in a Pecan Shell
Col. Dee Thompson is credited with founding the town in the late 1800s. A post office was granted in 1883 and seven years later the community had 350 residents.

By the mid 1890s Deport could boast a population of 600 which included five doctors – an impressive number for the times. The economy was based on cotton and corn.

In 1911 Paris and Mt. Pleasant were connected by a railroad and Deport prospered accordingly. Three years later the population was 1,200 – the town's high-water mark.

In 1929 a disasterous fire destroyed much of the town's business section. That and the effects of the Great Depression shrank the population to just over 800. The town managed to get through the next 20 years without incident or disaster, but in the mid 1950s, the railroad was discontinued. In the 1980s the population was 722, increasing to 746 in the early 1980s. The 2000 census reported 718 residents.


Deport, Texas Landmarks
Deport Photo Galllery: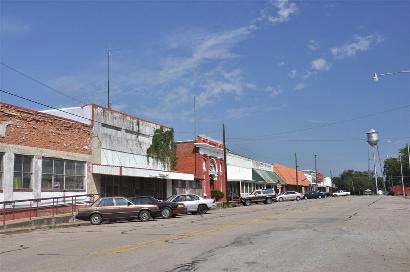 The 1909 First State Bank building
Photo courtesy Brett Parker
"A little history from FDIC. First State Bank 1909 till 1927 when the decline of economy forced FSB into bankruptcy. FIRST NATIONAL BANK then took over assets in 1927. It was sold to Guaranty Federal Bond in 1974. When a new building was built across the street, the old became storage. Building changed hands 3 times by locals. It turned into residents home in 2005." - Brett Parker
More Texas Banks
Support your local businesses
Darden-Sparts Department Store
Photo courtesy Barclay Gibson, 2010
Texas Escapes, in its purpose to preserve historic, endangered and vanishing Texas, asks that anyone wishing to share their local history, stories, landmarks and recent or vintage photos, please contact us.