GRAPEVINE, TEXAS

Tarrant County, Central Texas North

32°56'6"N 97°5'9"W (32.935025, -97.085784)

(Near) Highway 121
19 miles NW of Dallas
19 miles NE of Fort Worth
ZIP codes 76051, 76092, 76099
Area code(s) 214, 469, 972, 682, 817
Population: 55,281 Est. (2019)
46,334 (2010) 42,059 (2000) 29,2029 (1990)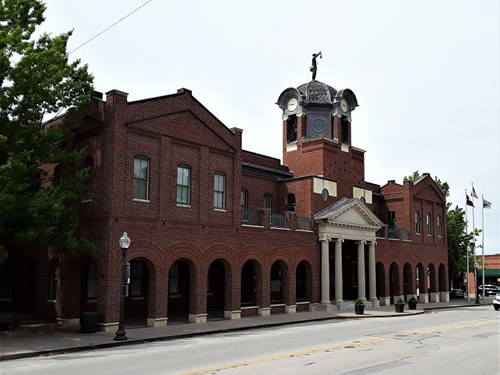 History in a Pecan Shell
Grapevine settlement dates back to the 1840s when settlers from Platte County Missouri moved into the area.

Grapevine has previously been known as Cross Timbers, Grape Vine Springs, Leonardville, Dunnville, and Grape Vine, until they settled on the current name (pun intended) in 1914.

A Masonic lodge was established in 1866 and the Grapevine Masonic Institute, was in operation from 1869 to 1886. The town had a population of 800 by 1890 and the St. Louis Southwestern Railway arrived sometime around 1900.

In 1914 Grapevine had 1,200 people but it dropped to just over 800 by 1925.

Today the proximity to DFW has increased the population to over 40,000. Prior to the opening of the airport the town had fewer than 3,000 residents.

Considerable effort has been made to dress up downtown Grapevine and with their restored depot-museum and pioneer cabin/park, Grapevine has a distinctive charm that other Dallas suburbs lack.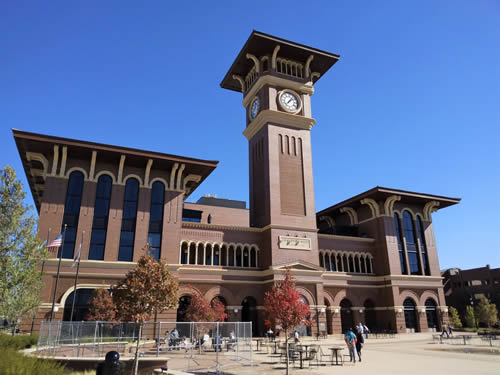 Grapevine Main Street Station
Photo courtesy Clint Skinner, November 2021
Great American West Gallery
Photo courtesy Clint Skinner, April 2020
Historical Marker:
Great American West Gallery
Constructed in 1897, this building served as retail space until it was purchased and remodeled by the Tarrant County State Bank in 1921. It became the offices of the Grapevine Sun newspaper in 1947. Displaying classical revival style elements, the brick structure features a central inset entry, stepped parapet of brick with stone coping and detail, and four classical pilasters supporting a dentilled cornice of stone.

Benjamin R. Wall (1876-1955) started the Grapevine Sun in 1895 at the age of nineteen. It was sold in 1897 to James E. Keeling (1847-1925), a native of England. His son took over as editor in 1912 and published the paper with the help of his wife Grady. The weekly printed mostly encouraging news for its readers. When Ed died in 1953, his daughter Zena Keeling Oxford became editor and her husband Gene was typesetter. The sale of The Sun following her death (1976) ended the family connection, which lasted 80 years and spanned three generations.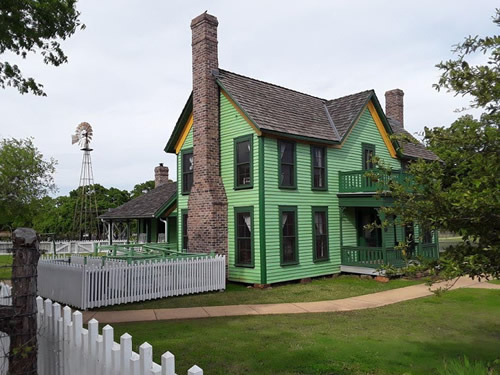 Nash Farm
National Register of Historic Places
Photo courtesy Clint Skinner, April 2020
Historical Marker:
Nash Farm
Established in 1859, the Nash Farm constitutes one of the last remaining agrarian sites from the 19th century in North Texas in the region where there was once a pervasive landscape of farmsteads. Thomas Jefferson Nash, Elizabeth Mouser Nash, and their first three children migrated from Kentucky to Texas in 1854, first settling in Dallas and then moving within a few months to the Grapevine vacinity. They were joined by Thomas' brother, William P. Nash. By 1859, they settled permanently on this site. The original farm property consisted of 450 acres with a variety of crops and animals.

During the Civil War, Thomas and William left to serve with Confederate troops. They left the farm in the care of Elizabeth and the children; both survived the war and returned home to enlarge their farm holdings. The Nash farmhouse, constructed in 1869, is a two-story I-house with a one-story, attached partial width front porch. The property also boasts a 1907 secondary gable-roofed wood frame tranverse barn, or crib barn, a cemetery dating to 1878, and a brick cistern dressed with a brick rim and decorated metal cistern draw.

In 1888, Thomas and Elizabeth gave land for right of way to the Cotton Belt Railroad, which contributed to the economic development of the Grapevine area. The farm remained in the Nash family until the 1920s. Rehabilitation of the property in 2008 restored the farm and its historic structures, preserving them for future generations. In 2010, the property was listed in the National Register of Historic Places."
Historical Marker:
Torian Log Cabin
This cabin of hand-hewn logs was built along a creek at the edge of the cross timbers near the pioneer community of Dove. It originally stood on a headright settled in 1845 by Francis Throop, a Peters colonist from Missouri. J. C. Wiley bought the property in 1868 to John R. Torian (1836-1909), a farmer from Kentucky. Torian family members occupied the structure until the 1940s. The cabin was moved about four miles to this site in 1976.
1909 C.M.Millican Blacksmithing
Photo courtesy Clint Skinner, April 2020
Grapevine Heritage Park Botanical Gardens
Photo courtesy Clint Skinner, April 2020
Grapevine Heritage Park Botanical Gardens
Photo courtesy Clint Skinner, April 2020
First United Methodist Church, Grapevine
Photo courtesy Clint Skinner, April 2020
Historical Marker:
First United Methodist Church
In 1854, Nathan Hudgins, a circuit-riding lay preacher, purchased acreage located in the middle of present-day Grapevine. Reverend Nathan Hudgins (also known as El Nathan Hudgins) was born May 10, 1814, and came to Texas in 1854 from Bellefonte, Alabama. The work of circuit rider was strenuous and dangerous, and Hudgins began to conduct weekly and bi-weekly services from his home. Seeking a more permanent church organization, Hudgings arranged for the establishment of the Grapevine Methodist Episcopal Church, South in 1866.

In 1872, E. N. Hudgins and Susan L. Hugins deeded two acres of land for a place of worship for members of the Grapevine Methodist Episcopal Church. The following year, a structure was erected , but damaged by a windstorm in 1887. A new structure was built in 1901, complete with a bell tower and a stained glass window in honor of Reverend Hudgins who passed away that year.

As attendance increased, so did the need for larger facilities. Over the years, multiple buildings were built, removed and/or renovated to accommodate the growing congregation. In 1968, to reflect the merging of the National Methodist Church and Evangelical United Brethren Church, the name was changed to the First United Methodist Church, Grapevine. Many ongoing ministries and community outreach programs solidify the church as a faithful servant of the Grapevine Community, providing service and love since Grapevine's establishment.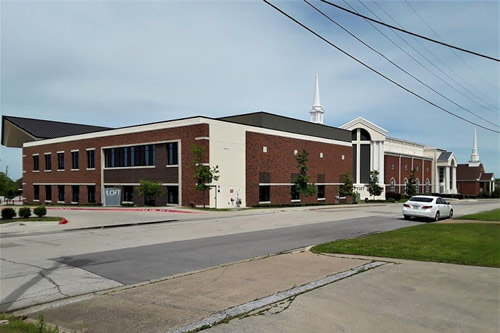 Historical Marker:
First Baptist Church
Baptists in the Grapevine Prairie area began meeting in their own homes as early as 1846. Worship services later were held in a log schoolhouse on what is now Dooley Street in the community of Grapevine. On December 25, 1869, the pioneers gathered to form a Baptists church. The eighteen charter members chose A. J. Hallford as their first pastor. The church's first sanctuary was completed in 1871. Over the years, First Baptist Church of Grapevine has grown steadily in membership and has provided significant service and leadership to the community.
---
---
The vintage Southern Pacific steam engine in Victoria is now in Grapevine
TE Photo
Grapevine Tourist Information
The Grapevine Convention & Visitors Bureau
One Liberty Park Plaza Grapevine, Texas 76051
800-457-6338 817-410-3185
http://www.grapevinetexasusa.com/
---
Texas Escapes, in its purpose to preserve historic, endangered and vanishing Texas, asks that anyone wishing to share their local history, stories, landmarks and recent or vintage photos, please contact us.