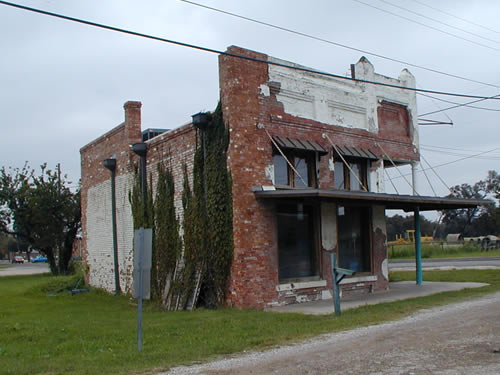 History in a Pecan Shell

Settled as early as the 1850s, things didn't get a good start until the arrival of the St. Louis, Arkansas and Texas Railroad in 1888. The town was named after the first name of the son of the town's postmaster, E. C. Thompson.

The railroad morphed into the St. Louis Southwestern Railway of Texas and the town grew from a mere 25 residents to nearly 300 by 1910.

It leveled off to around 200 from 1930 through the 1970s. Lavon Lake was constructed in the early 1950s, although no noticeable increase in population resulted. The 1980 Census gave the population as 306 which has since increased to 387 for the year 2000.

Photographer's Note
Subject: Lavon Texas
The one old building is all that remains of what was a very sparse downtown, if you could ever call it that. The little shrine on the side with the pump sets over a well or cistern. Lavon has exploded so fast I doubt if they know what has hit them. - Mike Price, October 16, 2007