MYRTLE SPRINGS, TEXAS
Van Zandt County, North Central Texas
FM 1504 and State Highway 64
Off I-20
About 6 Miles NW of Canton
Population: 00131 (2000)
Myrtle Springs Area Hotels > Canton Hotels
Myrtle Springs Schoolhouse
Photo courtesy Bob Landrum, 2013
History in a Pecan Shell
The town dates from 1872 when it was known as Holden Springs. J.M. Holden bought 200 acres here and built a steam-operated gin and grist mill.

The fertile land and the ample water made it a natural for the nursery business. Nurseyman W.A.T. Murrey is said to be responsible for the current name, combining the word Springs with the (Crape) Myrtle shrub.

In 1875 adjacent land was purchased for the establishment of fruit and ornamental tree nurseries. In 1878 a post office was granted but closed sometime after that date, reopening in 1887 and remaining open until 1907.

It was developed as a health resort in the early 1890s, with a two story hotel and bathing facilities. Incorporated in 1893, the corporation was sued by a would-be saloon owner when the incorporation banned liquor. He won the suit in an 1895 election.

Although it had many visitors, Myrtle Springs only kept a year-round population of about 100. A host of other small industries sprouted in and around the town, including a broom factory and a canning plant.

By the onset of the Great Depression the population had reached nearly 400. After a brief period of decline it rose back by 1947. At the time of the 1950 Census Myrtle Springs had five grocery stores, The population fell to 131 by the late 1980s where it remained for the 1990 and 2000 census.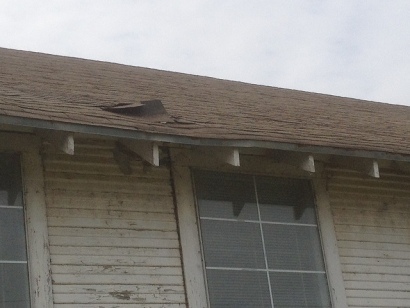 Myrtle Springs schoolhouse roof in need of repair
Photo courtesy Bob Landrum, 2013
More Texas Schoolhouses
Myrtle Springs Forum
Subject: Myrtle Springs School in Van Zandt County, Texas
The Myrtle Springs Independent School District was consolidated with the Wills Point Independent School District in 1977. A dedicated group of people, the Myrtle Springs Alumni, has been able to preserve the building utilizing it for theatrical productions, reunions, weddings, etc. Today, it continues to serve the area in this capacity but is in need of a new roof. Myrtle Springs is located on U. S. Highway 64 between Wills Point and Canton. - Bob Landrum, March 25, 2013


Texas Escapes, in its purpose to preserve historic, endangered and vanishing Texas, asks that anyone wishing to share their local history and vintage/historic/contemporary photos, please contact us.

Related Topics:
Texas Towns | Texas Ghost Towns | Texas | Texas Hotels
Custom Search
Book Hotel Here - Expedia Affiliate Network