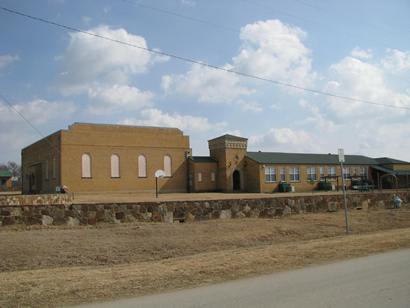 History in a Pecan Shell

Settled in the early 1870s, one L.W. Lee platted his land for development and named it after the view of the Spring Creek Valley.

In 1872 an estimated 18 families moved in and a post office opened.

The following year a school (sharing space with the town's blacksmith) opened.

The population was a respectable 250 people by 1884 and the town could boast most essential businesses, including multiple stores, cotton gins and gristmills.

Two years later the Gulf, Colorado and Santa Fe Railway arrived and a hotel was added. After 1902, Valley View created a "fireproof" downtown consisting of brick buildings and proudly built a brick two-story schoolhouse. Shortly thereafter the town received telephone service and a newspaper started publication.

By 1914 the town had a population estimated at 600 and the town's future seemed secure. Things were going well until late 1924 when Valley View was struck by two fires. The first destroyed the town's east side and the second (started by bank robbers) burned an additional two blocks.

Valley View's population reached 700 and remained there for the next four decades. It briefly broke 800 in 1970. In 1980, it was estimated at around 500 and it has increased slowly but steadily to the present 737.

First Baptist Church
Photo courtesy Mike Price, 2008
Valley View Forum
Subject: Valley View, Texas 76272
[Here is] a photo of the now closed Nichols Motor Company that once sold Chevrolet Automobiles, gas, oil, tires, batteries, TVs, refrigerators and several other hardware items. It was about 1979 or 1980 before the Chevrolet Dealership closed and I still own a 1975 Chevrolet Nova purchased there. I'm also attaching a few aerial photos of the town, one taken in August 31, 2008 that shows the subject Chevrolet Dealership to the left of the water tower. The other aerial photo was taken Nov. 16, 2007. The building's tenant now is Riley Performance Motors, a company that restores the older/antique autos, specializing in restoration of the Ford Mustang Cobra's. They have a website that more fully describes their services http://www.rileyrpm.com - Bill Maughan, December 20, 2012
The now closed Nichols Motor Company
Photo circa 1979 courtesy Bill Maughan
Valley View aerial photo showing the Chevrolet Dealership to the left of the water tower
Photo courtesy Bill Maughan, August 2008
Valley View aerial photo
Photo courtesy Bill Maughan, November 2007
Custom Search
Book Hotel Here - Expedia Affiliate Network