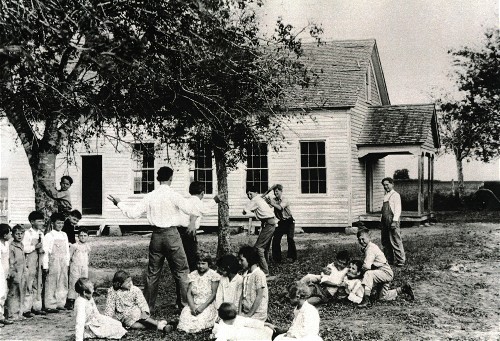 History in a Pecan Shell

Norman Woods, a survivor of the Dawson Massacre, received land here as a grant when Texas was still a Republic. Situated on the old La Bahía Road, a store and gin were built in 1880 and the town even had a nursery. Bohemian immigrants named the community after a town in the old country and the town received a post office in 1894 (closed in 1905). Cotton was the basis of the community's economy.

During the early years, the town had separate schools teaching in both Czech and German. The German school merged with the school at Praha and many years later the Novohrad school merged with Moulton schools. The population in 1950 was a mere 25 people. After WWII businesses either closed or moved to Moulton.


Remembering Novohrad's old Grieve School
by Murray Montgomery
"The following article appeared in a 1933 issue of the Lavaca County Tribune and gives some interesting information about the Grieve School at that time... The story below has not been edited and is featured as when first published.... more"
"The [Novohrad School] eventually consolidated with the Moulton school district sometime during the 1950s..."
Courtesy Friench Simpson Memorial Library, Hallettsville, Texas
1907 Lavaca County Postal map showing Novohrad
(Above "LA" in "LAVACA". Near Fayette/Lavaca County line)
Courtesy Texas General Land Office
Custom Search
Book Hotel Here - Expedia Affiliate Network