Canadian River was watery trap

by Delbert Trew
Almost every early day description, narrative and historical note written about the Canadian River uses the words "dangerous," "treacherous," "quicksand" and "death." Whether man, beast or wagon was involved, the river often took its toll.

Old Tascosa was established because of the easy river crossing marked by centuries-old buffalo trails. Another well-known crossing was at Indian Creek, where gravel washed down from the creek during floods provided a firm bottom across the river. At various times and at certain locations along the river, men made a living guiding both wagons and early automobiles across the channel. In some areas, lead steers and river horses could be rented to help guide trail herds across the flooded waterway.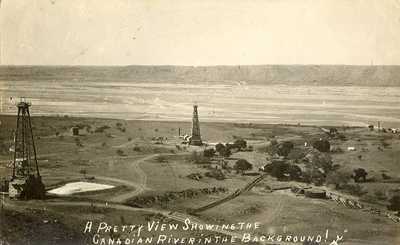 Noted Panhandle historian Cleo Tom Terry wrote of Canadian River casualties. Iva Stovall, the Matador Ranch wagon boss, rode off into the river at flood stage and neither he nor his horse were ever seen again. Jay Taylor, a well-known Panhandle cattleman, once had an employee ride into the river and dropped from sight instantly. Mr. Taylor flew his airplane up and down the river for days afterward but never found any sign of the cowboy and mount.

A pet phrase used by cowboys in describing the river was, "That old river will bog a saddle blanket at times." All riverside ranches kept a few river horses experienced in crossing quicksand.

During the early 1940s, we leased the old Parsell Ranch west of Canadian, Texas. This was before cattle trucks and good roads, so almost all cattle movement to and from market was made on the hoof. The easiest way to the Canadian railroad stock facilities was to use the bottom of the Canadian River.

At that time, when the river was not flooding, the channel was a mile-wide band of reddish colored sand often the site of dust storms if the wind was from the west. The river bottom contained thousands of small brush-covered islands of all sizes. You learned quickly the islands were anchored by tangles of barbed wire washed down from upstream during prior floods. At that time, my father believed the actual quicksand spots were caused by live springs coming to the surface, keeping the sand loose and disturbed.

We learned to watch the surface closely while riding. The experienced river horses took quick, short steps, almost dancing to the side to prevent the quicksand from sucking their feet downward.

Cattle not used to quicksand walked out to water to drink and instantly sunk to their bellies, unable to free their legs. Most had to be rolled over on their sides, freeing their legs before they could be pulled or could scramble to safety.

Dad always made sure I was mounted on a bay horse named Two-Step. When a "quickie place" appeared, Two-Step immediately shifted gears over into "The Canadian River Two-Step" and sidled out to firmer ground. At ten years old, I thought this was the most exciting thing that had happened in my life.


© Delbert Trew
"It's All Trew" September 30, 2008 Column
E-mail: trewblue@centramedia.net.
See Texas Rivers | Canadian River
More Texas | Features | Columns