Burning question counterintuitive
Western Dance

by Delbert Trew
Recently, after enjoying an evening of good western swing music on a ranch near Quitaque, this question came up. "Why do western dance participants always dance in a counter-clock wise direction around the dance floor?" Not only did no one even offer a reason or theory, no one could remember the question being asked before.

I grew up in a musical family, learned to dance by the time I could walk, my father supported us by playing dances during the Great Depression, then I played for dances professionally for 35 years. I should know the answer. Sorry, I don't have a clue. So, we present the question to our smart, handsome and beautiful readers, "Why do western dancers always dance around the floor in a counter-clockwise direction?"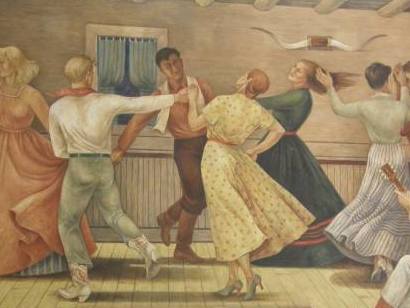 While contemplating the question I recalled a few "Trew" stories about the good old-fashioned western country dances. Here 'tiz!

A lady I once knew was one of six daughters, aged two years apart, born to a real cowboy and his wife living way out on a ranch in New Mexico. She said her father was so afraid he would get stuck with an old-maid daughter or two he made every effort to supply them with every attribute possible to meet the demands of any suitor.

Such as, he insisted they all become good dance partners, know how to play poker and be able to cook a decent meal. With no practice partners nearby, the daughters took turns both leading and following while learning to dance by a wind-up phonograph. After getting their homework done many nights they all sat around the kitchen table and dad taught them how to play poker using kitchen matches as chips.

As a result all the sisters found decent husbands, most were wallflowers standing around the walls of the local dances. They pulled them out on the floor and taught them to dance. My friend says, "My husband leads while dancing until his "toddies" affect his coordination then she leads and he follows until time to go home. It has been working for over 50 years."

Another cowboy friend told of being coerced into chaperoning a modern teenage school dance. He described it as, "The couples stood about three feet apart and did calisthenics while listening to cannons going off on the bandstand." Notice here, no circling the dance floor in any direction. Maybe the youngsters got tired of going in circles.

I had a short cousin who was taught to dance by his rather tall, ample-bosomed aunt. She would drag him out on the floor, clamp his face into her cleft and circle the floor. He held his breath for the count of 30 each time then came up for air. He said it wasn't so bad because the position hid his embarrassed red face, he learned a lot about the facts of life as well as being taught how to dance.

Since none of these stories have anything to do with answering our original question, its still up to you readers to tell us, "why do we circle the dance floor counter-clockwise?" My addresses are below. I will publish any reasonable answers.


© Delbert Trew
"It's All Trew" November 30, 2010 column
Delbert Trew is a freelance writer and retired rancher. He can be reached at 806-779-3164, by mail at Box A, Alanreed, TX 79002, or by e-mail at trewblue@centramedia.net. For books see DelbertTrew.com. His column appears weekly.

See This is why we dance counter clockwise December 20, 2010 column by Delbert Trew