History in a Pecan Shell
Bath dates to the early 1870s when it was first known by the rustic name of Possum Walk. The Union Hill Baptist Church came into being in 1872. The postal authorities were not about to approve a town named Possum Walk, so, in 1877, the community became Bath. The community was small, with just twenty-five residents in 1892. By 1896 it had swelled to forty. The Union Hill church doubled as a school until a separate school was built in 1899.

Around the turn of the century, Bath peaked with a gristmill, a sawmill and two cotton gins. The post office lasted until 1905. Residents had given up hope for growth but they managed to keep its school and church open into the depths of ther Great Depression. The school was consolidated at some point and the population moved to greener pastures - leaving only the church with its graveyard as a physical reminder of Bath.
---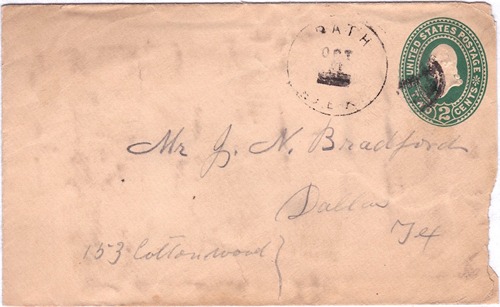 Poem by David Knape:
BATH, TEXAS
A town
named Bath
is always good
for a laugh

It was just
too far off
of the
beaten path

What founders
envisioned
just didn't
last

If you blink
you go past
what used to be
Bath.


~d. Knape
---
Texas Escapes, in its purpose to preserve historic, endangered and vanishing Texas, asks that anyone wishing to share their local history, stories, landmarks and recent or vintage photos, please contact us.