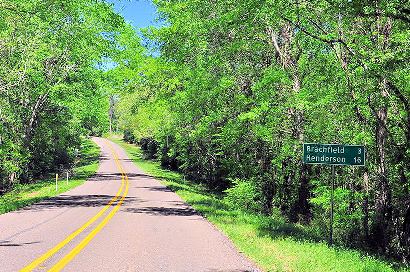 History in a Pecan Shell
The community was settled along Murval Creek in the 1860s and originally took the name Murval. Prior to Murval's settlement, a town named Gibson was nearby. It too was named after a creek. (Murval and Gibson Creeks connect.) The community had a post office as early as 1853.

From 1892 to 1905 the community became known as Needmore by the county newspaper referring to it by that name. This lighthearted name was adopted by county residents and remained until it was discovered that there was already an "official" Needmore in Terry County.

In the mid 1890s a hotel was built to accommodate people coming to recently discovered Welch Springs.

The current name comes from a county election. In 1900 it was Charles L. Brachfield who visited the town and stood in a recently cleared field (which is why campaigns call them stump speeches) to deliver his message. A new post office was renamed that year but only stayed active until 1906.

Early population figures aren't available but Brachfield peaked in the 1950s and 60s with around 80 residents. The 1990 census reported around 30 which rose to 40 by 2000.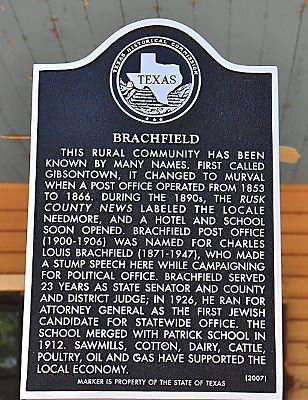 Brachfield Historical Marker
Photo courtesy Gerald Massey, April 2011
1907 Rusk County Postal Map showing Brachfield just SE of Henderson
From Texas state map #2090
Courtesy Texas General Land Office
Texas Escapes, in its purpose to preserve historic, endangered and vanishing Texas, asks that anyone wishing to share their local history, stories, landmarks and recent or vintage photos, please contact us.