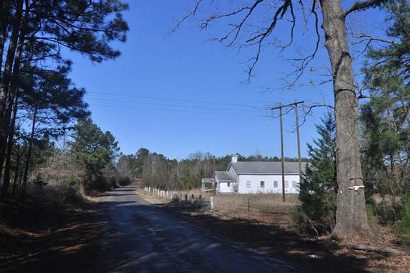 History on a Pinhead

The community was established enough in 1899 to support a 53 pupil (one teacher) school. By the late 1930s, the three-room school taught 183 primary students and 27 high school students.

By the 1960s, there were still no population figures or businesses reported and the houses were scattered. Four businesses were reported in the 1980s with two churches.
On Gethsemane, Texas
Photographer's Note:
There is this "place on a map", (my Street Atlas ones) and also on Google Maps. However, that is about all there is to this place, a place on a map. It doesn't even qualify for a sign. I did investigate this area and came up with three churches and a road sign and that is about it. Don't know about any history. However, when I drove into the Bethlehem Baptist Church I thought I was traveling into nowhere. In fact I started to turn around and go back and give up. However, the road was so very, very small and narrow through the east Texas Piney woods it was almost impossible to do a "turn around." Even though the road was so very small it was in very good driveable shape. With my experience in doing this type of thing I had already learned that roads into backwood churches are kept up very well. Pretty soon I came to the end of the road and the church.

After I took all the pictures it came to me - how in the world did they ever find this place in the back middle of nowhere for a church. But, with looking at the date of origin on the "cornerstone" of 1867 I realized that there is no telling what this area looked like 143-years ago. It could have been that all these "woods" weren't there. That could be a very interesting story yet, that could be like so much other things in this day and time - " Gone With The Wind." - Gerald Massey, January 31, 2010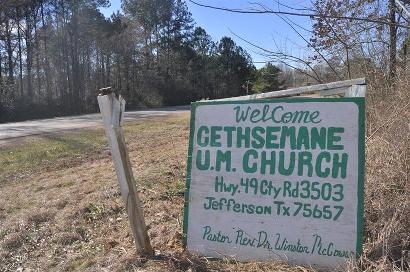 Bethleham Baptist Church cornerstone
Photo courtesy Gerald Massey, 2010