---
---
---
History in a Pecan Shell
Settlement is said to coincide with the construction of a log church in 1843. John and Henry Mims were the community namesakes. The log church had been replaced and the new Methodist Church was named after the Mims Brothers who had acquired the church site.

Texas' first iron foundry was built here in 1847 by a man named Jefferson S. Nash. Built along Alley's Creek, a post office opened under the name Alley's Mills, Texas in 1852. In 1861 the post office changed it's name to Nash's Foundry, Texas.

Prior to the Civil War, it was reported the foundry had successfully processed a modest five tons of iron, nevertheless, this was a considerable asset for the Confederate States for the up-coming war. The Confederate renamed both post office and foundry the "Texas Iron Works."

Due to limited production, Nash sold the foundry to the Kelly Plow Company - even while the war continued. Equipment was painstakingly moved to Kellyville, Texas.

The post office reverted to Nash's Foundry once the war ended. It was discontinued by 1868 but in 1970, a new post office emerged - this one named Mim's Store. Just when postal authorities though the name might be permanent, it was changed again in 1880 to Mim's Chapel. But wait! There were more changes to come. The post office was renamed once again in 1885. There seems to be a question over whether the post office moved to Amicus, Texas.

Amicus consisted of a store run by a family named Taylor. The location was on or near the former site of Mim's Store. The population of this community was a modest 25 residents, With one J. W. Mims as justice of the peace. But all the renamed is academic in the end, for the post office was the last one the community had. It closed in 1906.

The community attempted to exploit iron ore once more. In 1911 a railroad was planned but only a short length of track was laid. WWI interfered with construction and by 1927 all thoughts of rejuvenation were dead.

The school was consolidated with Lassater by 1955 and the community was reduced to scattered houses and a cemetery. No population figures are currently available.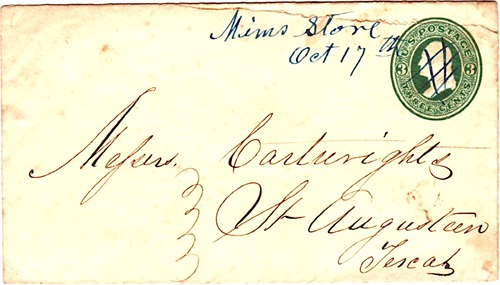 Mims' Store Forum:
Subject: Some thoughts about the article on Mim's Store:

1) It closed in Jan 1885 and Amicus opened in December 1885. It was located a couple of miles southeast of Mims, and the post office did not mention "moved to" or "name changed" as it normally did when there was an evolution. So Amicus was a separate office.

2) Nash's Foundry (AKA Alley's Mills, then Texas Iron Works) was the same distance from Mims but due east.
---
Texas Escapes, in its purpose to preserve historic, endangered and vanishing Texas, asks that anyone wishing to share their local history and vintage/historic photos, please contact us.