History in a Pecan Shell
Shown on old maps as just plain Carolina, it was originally named Bath. The region was known for several springs which had therapeutic properties. It was founded in the 1830s. There was, however, another community by the name of Bath in the SW part of Walker County, which may have contributed to a change of name in 1838.

The tiny community sat at the mouth of Carolina Creek and the west bank of the Trinity River. Resident Carolina Shores is said to be the town's namesake.

In the early 1840s, the community consisted of barely a dozen people. A few years later it had swelled to 20. It was, however, granted a post office. The community's main function was as a refueling port for the steamships that navigated the Trinity River.

After the arrival of the railroad in the 1870s, Carolina joined the long list of towns along the Trinity that died for the exact same reason.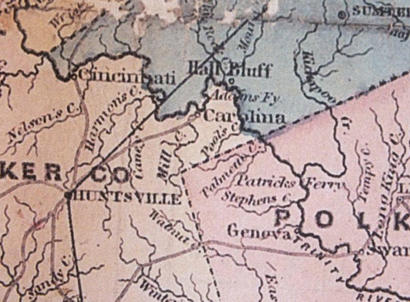 Texas Escapes, in its purpose to preserve historic, endangered and vanishing Texas, asks that anyone wishing to share their local history, stories, landmarks and recent or vintage photos, please contact us.