---
---
---
History in a Pecan Shell
At least six towns in Texas were named Providence. This one began in early 1858, when W. T. Miller generously donated eight acres for a cemetery, school and church. In the 1870s the Masons built a two-story combination school and church building and held their meetings upstairs. A tornado in 1900 damaged the building, causing the lodge to relocate in nearby Elkhart. Wreckage from damaged buildings allowed the townspeople to build a one-story church.

The school sent students to other schools and discontinued their classes at Providence.

The church disbanded in the mid 1930s and a historical marker for the Providence Church and Cemetery was dedicated in the early 1970s.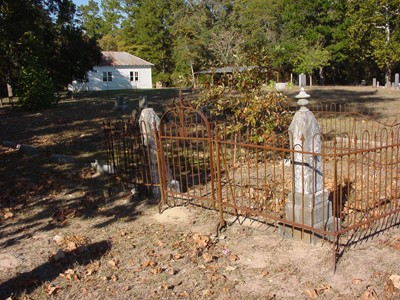 Historical Marker
(on CR 1223 off FM 323, about 16 miles SE of Palestine):

Providence Church and Cemetery
On March 20, 1858, W. T. Miller deeded eight acres of land here "to trustees Lemuel Mullins, Chairman, D. Capp and Wm. Webb, for school purposes and burial ground." W. M. Hardy added a half-acre to even north line. These gifts met a pressing need for a central place to educate the children in this farmland area. Local residents (including Freemasons) donated work and materials, fenced the churchyard cemetery, and built a two-story structure to house the Providence School and Providence Missionary Baptist Church downstairs, and Providence Lodge No. 400, A.F. & A.M. (later to be Elkhart Lodge), upstairs.

Providence was second missionary Baptist church in Anderson County. After tornado damage to building in 1900, school was discontinued. The present one-story building was salvaged and repaired with original materials, and regular church services continued through 1935.

The cemetery, still used for burials, has some graves of settlers who arrived in the Republic of Texas days, and for years held school and worship in their own homes. Providence celebrated its centennial July 4-18, 1958, with nightly church services. The annual homecoming is held the first Sunday in June, with morning service followed by dinner on the ground.
(1973)
---
Texas Escapes, in its purpose to preserve historic, endangered and vanishing Texas, asks that anyone wishing to share their local history and vintage/historic photos, please contact us.