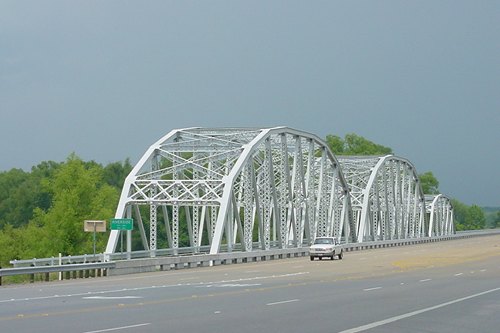 History in a Pecan Shell
When Riverside was established in 1872 by the Houston and Great Northern Railroad, the combination of river and railroad gave the town unlimited potential. That same year a post office was moved from its former location at Newport.

Cotton was the town's first economic engine, then lumber. As the trees thinned out, Riverside started raising cattle. By 1880 the population was 200 and besides essential businesses, the town also had two hotels and two general stores.

By 1990 Riverside added a saloon and restaurant as well as three churches and two schools. But even with a railroad and river, the town started losing population. By 1914 it had decreased to a mere 50.

Fuller's earth* was discovered in the area in 1920, and two plants were opened, giving the town a reprieve from impending oblivion. The population increased in the early 1930s, to 300 and remained at that number until the Riverside schools were merged into Huntsville's ISD in the 1960s. From a 1990 census figure of 451 residents, the 2000 population had declined slightly to 425.

*a clay-like material used to decolorize and purify oils.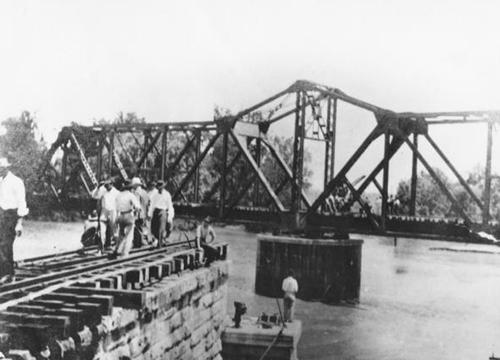 Riverside Bridge turned for the first time
1904 photo courtesy Trinity County Historical Society
Riverside turning bridge damaged in 1925
Vintage photo courtesy Trinity County Historical Society
See Texas Bridges | More Vintage Photos
Riverside Cash Store with Mr. Homer and Mr. Jake
Photo courtesy Trinity County Historical Society & SHSU Collection
See Texas Stores | More Vintage Photos
Town of Riverside Historical Marker
TE photo
Walker County 1907 Postal Map showing Riverside
(Above "ER" in "WALKER")
Courtesy Texas General Land Office
Texas Escapes, in its purpose to preserve historic, endangered and vanishing Texas, asks that anyone wishing to share their local history and vintage/historic photos, please contact us.
Custom Search