SMITHLAND, TEXAS
Marion County, East Texas
Highway 49
12 Miles NE of Jefferson
Population: 0179 (2000 – same number in use since the 1960s
History in a Pecan Shell

Named to honor early settler John Frank Smith. Smith's arrival here was in 1842 before Marion County was cut from Cass County. A post office was granted in 1850 but the community's population was miniscule until the 1880s when it reached 50.

R. B. Smith partnered with one Sam Mosely to open a store here along with a flour mill and a cotton gin. In 1914 the town could boast ten (count them, 10) stores – which came to one store for each ten residents. That might well be a record number for a town its size.

The high-water mark came in the 1920s when the count reached 200, but with the arrival of the Great Depression, it was soon reduced and ended the 1930s with 150 residents.

The school merged with Jefferson's district in the 1960s. The population increased to 179 in the 1960s and that number has been in use ever since.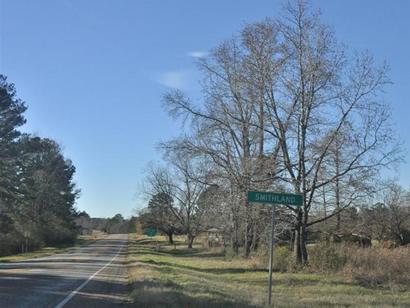 Photographer's Note:
I almost missed the historical marker on the old high school. It is located down the road from "downtown" Smithland about a mile at the highway intersection of TX-43 and TX-49. Because of this major intersection which contains a big "Store\Truck Stop", a VFD fire house and a couple of residences lots of people, including myself, think this is Smithland but, it isn't. It is about one mile east from the major intersection on highway 49. - Gerald Massey