Tennessee Colony Community Center/School
Photo courtesy Erik Whetstone, October 2005
History in a Pecan Shell
A large group of settlers from Tennessee and Alabama settled here in the late 1840s and judging by the name, there were more Tennesseans than Alabamans. The land was soon turned into cotton production and the Jackson Plantation became one of the largest in all of East Texas.

In 1851 a log school opened, and the following year a post office was granted. Tennessee Colony gained an infamous footnote in Texas history when in 1860 two white instigators from Mississippi were accused of plotting a slave uprising. The alleged plan was for slaves to poison the town's drinking water. Both men were captured, tried and hanged.

When Palestine was connected by rail in 1872 Tennessee Colony was self-sufficient with a population around 200.

Palestine, with it's rail connection drew off Tennessee Colony's population and by 1914 the population was reduced by half. By the late 1920s the population rose to 300 - but declined with the onset of the Great Depression. By the time WWII was underway, the town was again reduced by half.

In 1965 the town experienced a growth spurt to 400 people when the Texas Department of Corrections built a medium-security prison just southwest of town. The Coffield Unit which was built to hold 2,000 prisoners was joined by a second facility (the Beto Unit) in 1984. The town's population remained around 120 from the 1970s through the early 1990s.
Historical Marker: Junction of FM 321, Spur 324 and SHwy 287
Tennessee Colony
Founded in 1838 by settlers who came from the Old South by wagons, seeking fertile, watered farm lands. Later their cotton shipped from Magnolia Ferry on the Trinity created great wealth. Early businesses were a general store, blacksmith shop, cabinet shop (which made furniture still found in area). Town was trade center for places as far away as Dallas. The plantation era reached a climax in grandeur on the properties of F. S. Jackson, a settler from Virginia.

Circuit riders held religious services in homes until a log cabin church could be built, probably in late 1838; a second log church succeeded this one. Masons attended the lodge in Magnolia for years, but in 1857 obtained charter for Tyre Lodge No. 198, A.F. & A.M., in Tennessee Colony. They then worked to build a 2-story church-school-lodge hall, which was finished in 1860 (and was to be used until 1948).

The schools were outstanding, especially those taught by a Mr. Hooker and by Professor Sidney Newsome. They drew patronage from Palestine and other area towns. Remembered students included Addison and Randolph Clark, later to become founders of a college that would be forerunner of Texas Christian University. Descendants of original colonists still live here.

(1971)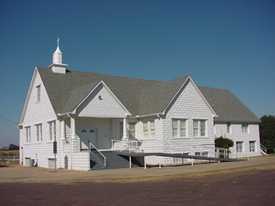 Historical Marker: off Spur 324 about 0.5 mile E of Tennessee Colony
Tennessee Colony Cemetery
Settlers from the southern United States founded Tennessee Colony in 1838, years before the formation of Anderson County. One of their first community efforts was construction of a log church building on a hill near this site. Located on the Manuel Riondo Land Grant of 1833, the Tennessee Colony Cemetery may include graves dating from the 1840s and 1850s, although no marked stones remain as evidence.

A large vacant area in the center of the burial ground once included numerous fieldstones indicating the presence of individual gravesites. Over the years, however, the stones have been moved or misplaced. The earliest marked grave is that of Mrs. Manurva E. Shelton (b. 1831), who died on September 13, 1862. Other interments here include those of pioneer area settlers and their descendants, military veterans, members of local fraternal orders, and community leaders. In 1974, the heirs of M. S. Avant (1834 - 1906) formally deeded this land to the Tennessee Colony Cemetery Association.

Still used, the Tennessee Colony Cemetery reflects over a century of the area's history dating from the days of the Republic of Texas.

(1986)
Historical Marker: CR 321 W of Tennessee Colony, approx 1 mile S on CR 2054 approx 1 mile; cemetery on left through open pasture
Jemison Quarters Cemetery
In 1847, settlers from Tennessee and Alabama moved to this area, naming the community Tennessee Colony. Elbert S. Jemison, believed to have come from Alabama Circa 1850, established a plantation in this vicinity. He served as a soldier during the Civil War and profited from cotton production on his plantation. There, he housed his slaves, as well as many from other states, renting their labor to area farms and operations like the nearby Confederate salt works.

Following Emancipation in 1865, many freed slaves remained in Tennessee Colony, establishing a cemetery here. Tradition holds that the earliest burials are of slave owners and their slaves; the first marked grave dates to 1880. Several of the men and women buried in the cemetery had been born into slavery.

Today, the burial ground, known as Jemison, Jimmison or Jimerson Quarters cemetery, is maintained by a cemetery association. It is the final resting place of generations of area African American residents, including veterans of major 20th century conflicts, and it remains a link to the history of more than a century's work toward freedom, equal rights, community and home.
Historic Texas cemetery - 2003

[Texas Black History]
---
Texas Escapes, in its purpose to preserve historic, endangered and vanishing Texas, asks that anyone wishing to share their local history, stories, landmarks and recent or vintage photos, please contact us.