A church in Tennessee Colony
Photo courtesy Erik Whetstone, October 2005
History in a Pecan Shell

A large group of settlers from Tennessee and Alabama settled here in the late 1840s and judging by the name, there were more Tennesseans than Alabamans. The land was soon turned into cotton production and the Jackson Plantation became one of the largest in all of East Texas.

In 1851 a log school opened, and the following year a post office was granted. Tennessee Colony gained an infamous footnote in Texas history when in 1860 two white instigators from Mississippi were accused of plotting a slave uprising. The alleged plan was for slaves to poison the town's drinking water. Both men were captured, tried and hanged. When Palestine was connected by rail in 1872 Tennessee Colony was self-sufficient with a population around 200.

Palestine, with it's rail connection drew off Tennessee Colony's population and by 1914 the population was reduced by half. By the late 1920s the population rose to 300 - but declined with the onset of the Great Depression. By the time WWII was underway, the town was again reduced by half.

In 1965 the town experienced a growth spurt to 400 people when the Texas Department of Corrections built a medium-security prison just southwest of town. The Coffield Unit which was built to hold 2,000 prisoners was joined by a second facility (the Beto Unit) in 1984. The town's population remained around 120 from the 1970s through the early 1990s. Two historical markers are currently present in Tennessee Colony - one for the town itself and one for the cemetery.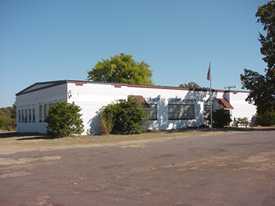 Tennessee Colony Community Center/School
Photo courtesy Erik Whetstone, October 2005
The uneven merry-go-round at the school play ground
Photo courtesy Erik Whetstone, October 2005
Texas Escapes, in its purpose to preserve historic, endangered and vanishing Texas, asks that anyone wishing to share their local history and vintage/historic photos, please contact us.
Custom Search