The Old Lavaca County Jail
Photo courtesy Debra Fawcett, 9-17-2105
The Old Lavaca County Jail
1885 - 2005
By Debra Fawcett, South Texas Afterlife Researchers


A block away from the old town square in Hallettsville, Texas, in the shadows of the historic and magnificent courthouse, sits the old Lavaca County Jail. The second longest continuously operating jail in Texas, showcases the evolution of jail technology. The dark second floor houses the medieval flat bar cells that were constructed in 1885. In the 1970's, more modern cells were added to the first floor, although overcrowding meant prisoners were still being held in the old cells upstairs. Two historic and tragic floods filled the jail with eight feet of water, the first in 1940 and again in 1981.

In 2005, following completion of the new jail, the old county jail closed its doors and the building sat vacant until Roger Chambers of Rita, Inc. purchased the property in 2014. Mr. Chambers has a passion for historic buildings and owns several of them that he makes available for unique filming locations and small businesses.

South Texas Afterlife Researchers, a group of paranormal investigators, heard about the old jail and approached Mr. Chambers about conducting the first paranormal investigation of the property. The team quickly discovered that the jail was never truly empty.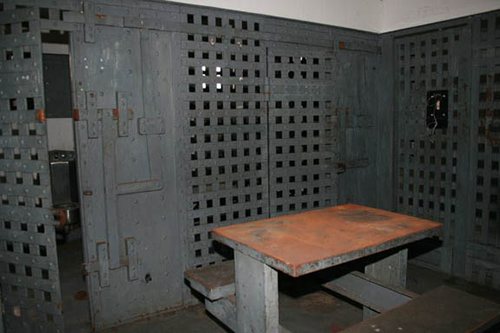 Old Lavaca County Jail cell
Photo courtesy Debra Fawcett, on 8-9-2015
More Texas Jails
Beginning with their first visit, mounting audio and video evidence convinced the team that this location was truly haunted. The banging of cell doors, ongoing distant conversations, shadows, whispers, laughter, and occasional physical contact were experiences all paranormal investigators long for,and they were plentiful within the walls of the old jail.

The group volunteered to undertake the cleanup process of the property and suggested to Mr. Chambers that sharing this extremely active location with other paranormal investigators would offer an opportunity to add to his restoration funds. Mr. Chambers plans to restore the original fašade of the building and wants to share this incredible piece of Texas history with the community. For a limited time, the jail is being made available to private paranormal groups for overnight investigations.

John Danmier and Debra Fawcett, co-founders of South Texas Afterlife Researchers, S.T.A.R., agreed to host and manage investigations at the jail until major reconstruction begins. Reservation links for private investigations can be found on the Rita, Inc., website and the Haunted Old Lavaca County Jail Facebook page, along with more information and video clips of documented activity.


- Debra Fawcett, South Texas Afterlife Researchers
January 08, 2016
http://www.rita-properties-inc.com/investigate
https://www.facebook.com/lcj33/

An inside look at the jail: https://www.youtube.com/watch?list=PLyzBUv_K-VNfeMTNaDsV_yW17MNMR02QV&v=5ITVP3NzXSk


More Texas Haunted Places
See Hallettsville, Texas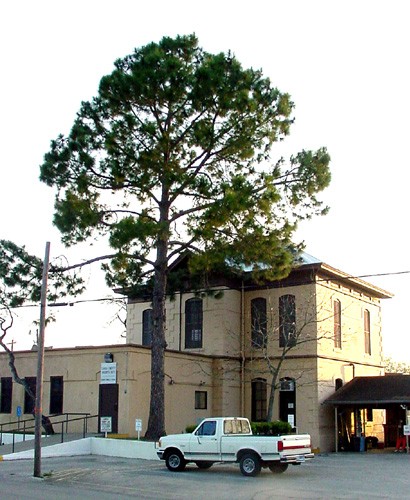 Lavaca County Jail in 2001, four years before the jail was closed
TE photo
Custom Search