They were the best of "frienemies," two men who overcame a long-standing mutual grudge to do something for the greater good. - Kentuckian Robert Runyon alighted from the St. Louis, Brownsville and Mexico train at Brownsville in the winter of 1909. Of course, compared with the Blue Grass State, winter in the Rio Grande Valley was a decidedly relative term. Only rarely did it even freeze at the southern-most tip of Texas, which thanks to its balmy climate and fertile river delta was enjoying an agricultural boom.

Newly widowed, the 27-year-old Runyon worked for the railroad but that was just a job. He was still looking for a career and a new life. In the meantime, on this first-ever visit to the Valley, he took the ferry across the river to Matamoras, Mexico and wandered around the plaza, taking photographs with his pocket Kodak. With its native sabal palms and other lush tropical vegetation, the Valley on both sides of the river amounted to an alien landscape to the Kentuckian. But he liked what he saw and decided to stay.

Runyon's future antagonist, 43-year-old native Texan Frank Rabb, was the son of a prominent South Texas rancher. While Runyon would work his way to success, Rabb's big break came in saying "I do." When he married Lillian Stark in 1887, not only did he gain a wife, Rabb acquired half-interest in more than 20,000 acres along the Rio Grande just below Brownsville.

That land, known as Rancho San Tomas, had been passed down by Lillian's mother. She, in turn, had inherited it from her mother, Petra Vella Kenedy, wife of noted South Texas rancher Mifflin Kenedy. (Kenedy County is named for him.)

Rabb's business and agricultural acumen transformed the property into a highly profitable farming operation, the principal crop being sugar cane. Much of the land was cleared for irrigated cultivation, but Rabb deliberately left intact a stand of sabal palms and undergrowth. In addition to other improvements, in 1891-1892 Rabb had a two-story brick Victorian mansion built on the property.

In 1910, only a year after Runyon first saw the Valley and its indigenous palms, revolution broke out in Mexico. By then, Runyon had left the railroad to become a professional photographer. During the revolution, which soon spilled over into the Valley, Runyon took hundreds of photographs on both sides of the river, including a stark image whose power has endured. Often published, the photo shows a trio of Texas lawmen posing astride their horses behind the roped bodies of three slain Mexican raiders.

That striking image, which Runyon mass produced as a postcard, is what lay behind the animosity between Rabb and Runyon. By 1915, when Runyon took the image near the Norias railroad stop on the King Ranch, Rabb was U.S. Collector of Customs in Brownsville. Having branched out to real estate and banking in addition to his farming enterprise, he did not think the photograph was good for the Valley's business and tourism prospects. And though neither man had anything to do with the violence that the photograph captured, Rabb blamed Runyon for the bad publicity it generated.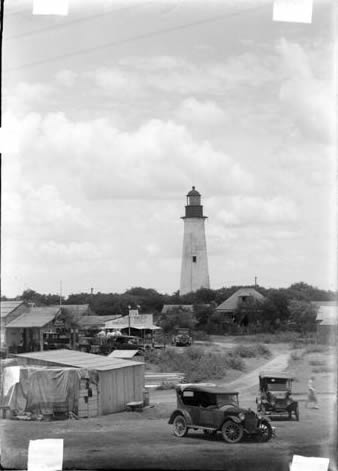 A primitive "Point" Isabel in the 1920s
The Robert Runyon Photograph Collection, Image RUN03158,
Courtesy of The Center for American History, The University of Texas at Austin
On March 31, 1916, as Runyon returned to Brownsville after purchasing two bottles of photographic developing chemicals in Matamoras, he was arrested for allegedly attempting to avoid duty payments and charged with smuggling. Runyon believed it was a bum rap and so did a federal district court jury, which found him innocent that May. The photographer later publicly asserted that Rabb had instigated his arrest for having taken the now famous photograph of the dead Mexican bandits.

As Mexico began to stabilize and America's attention turned in 1917 to the newly begun war with Germany, Runyon began to focus his attention-and his camera-on the Valley's distinct flora. The photographer and lay botanist found the sabal palms on Rabb's plantation, the only palm native to Texas, particularly intriguing.

Despite their differences, Rabb gave Runyon free run of his preserved palm forest for purposes of research and photography. In addition to the indigenous palms, Runyon discovered and photographed other previously undocumented plants on Rabb's river property. With his frienemy's permission, he brought several nationally known botanists to see the unique ecosystem Rabb had allowed to survive. He pushed, with Rabb's assistance, to have the plantation designated as a national park. That failed as did an effort to develop it as a state park. Rabb died in 1932 but his heirs continued to protect the native landscape along the river.

In 1970, two years after Runyon's death, 557 acres surrounding the rare palm grove were purchased by the National Audubon Society as a wildlife sanctuary. Forty years later, the Gorgas Science Foundation took over management of the unique bioscape, and in 2013 restored the old Rabb house for use as a visitor center and sanctuary headquarters.

Two state historical markers stand outside the mansion, but neither mentions the role Runyon played in saving the adjacent rare landscape by bringing it national recognition.
---
---
Books by Mike Cox - Order Here