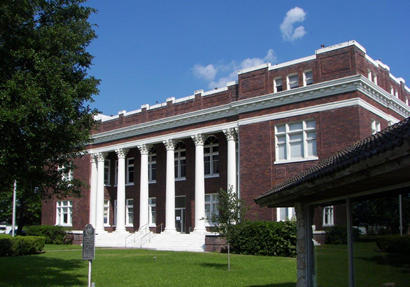 History in a Pecan Shell

George West was a rancher who had dreams of building his own town.

He settled in the area in the early 1900s, and in 1912 he granted a right-of-way to the railroad, insuring that his town would have a good chance of surviving. The railroad (The San Antonio, Uvalde and Gulf) came to town the following year. Mr. West built most every building in the town including the power plant.

Although the population was a mere 200 people in 1925 - oil and gas discoveries brought an additional 800 people to town by 1929. Uranium was discovered in the 1950s and George West experienced a little growth because of it. The population has held around the 2,600 mark for the last 20 years.
---
George West Attractions
Buck West House - 361-449-2033
400 N. Nueces (US 281).
Former home of George West's nephew.
Today houses the George West Chamber of Commerce.


Grace Armantrout Museum - 361-449-3325
On Highway 281 - just south of town


Live Oak County Museum - In Live Oak County Courthouse


Area Destinations:


George West Hotels > Book Here
Selena mural
(We were informed that this mural is not in George West. Anyone who knows in which town this mural is located, please email history@texasescapes.com
Thank you.)
TE Photo, 2004
---
Texas Escapes, in its purpose to preserve historic, endangered and vanishing Texas, asks that anyone wishing to share their local history and vintage/historic photos, please contact us.