The Leon Springs Hotel in 1981
Photo courtesy Ken Bates
History in a Pecan Shell
The town began as a stage stop in 1846. Operated by George von Pleve, a former German nobleman, the stage stop received a post office in 1857 (which closed in 1918).

By the mid 1880s, the community was thriving with a population of 50, a store and two hotels. It was an officer's training facility for WWI and during WWII was the site of at least one military execution (the hanging of an enlisted man from Camp Swift for the killing of a young girl). During the Great Depression the town declined to only 25 residents but grew again due to military establishing Camps Stanley and Bullis. The population was back to 100 by 1946 where it has more or less remained. The stage stop was extant in 2004 and it said to be haunted although it is now privately owned.
---
The Leon Springs Hotel today
Photo courtesy Sarah Reveley, January 2008
Leon Springs Today
Photographer's' Notes:
"Leon Springs is a sad example of a lovely little spot being wiped out by a subdivision. For a while it was filled with shops and cute little houses painted up along with a gas station and a barbecue place, then [the developers came]. The Leon Springs Hotel, on the Historical Register, has been obliterated by creeping expansion of a BBQ place and a "marker" was erected to the man responsible. I have no idea where the National Register marker is. When I was a kid, Leon Springs Hotel was in a state of decay in the middle of nowhere, then it got fixed up, then it got wiped out. I wonder why the town let them do that?" - Sarah Reveley, January 2008

"I read with some sadness your description of the old stage stop in Leon Springs. I lived down Boerne Stage Rd. for twelve years and passed this place on my way home from work each day. I am so sorry to see what has happened to it in these past 30 years. I am attaching a photo taken in 1981 when they were just beginning to commercialize the area." - Ken Bates, September 11, 2010
---
Historical Marker - (Location: I-10 & Boerne Stage Rd)
First Officers Training Camp
The first World War came to America on April 6, 1917, when President Woodrow Wilson signed the declaration, passed by Congress, that a state of war existed between the United States of America and Germany. Immediately thereafter, eight camps were established in the U.S. to train officers for combat leadership. The first was at Leon Springs, Texas, and on May 8, 1917, three thousand volunteers assembled at Camp Funston on the Schasse Ranch (now a part of Camp Bullis near this site) for training in various branches of the army. They endured three months of intense training and 1,846 young men graduated on August 15, 1917, as second lieutenants. The length of their training resulted in the term "90-day wonders."

Embodying their motto "brave men shall not die because I faltered," the members of the first officers training camp served with distinction in the war, many of them highly decorated for valor in combat. Almost 300, many highly ranking colonels or generals, returned to active duty for service in World War II. Three of those trained here later became governors: Beauford Jester of Texas, James R. Beverley of Puerto Rico, and Charles H. Martin of Oregon. Many more "first campers" were prominent leaders in business, industry and government throughout Texas and the United States.

Following their training and service, the former comrades in arms organized the "First Officers Training Camp Association" in 1931. Members residing in 30 states and several foreign countries gathered for annual meetings for more than fifty years. Now succeeded by generations of modern soldiers and officers, the First Officers Training Camp veterans leave a legacy of honor, courage and service to their country.
(1999)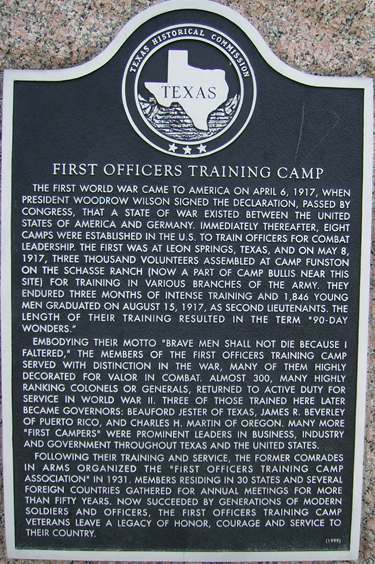 WWI First Officers Training Camp historical marker
Photo courtesy Sarah Reveley, January 2008
---
Texas Escapes, in its purpose to preserve historic, endangered and vanishing Texas, asks that anyone wishing to share their local history, stories, landmarks and recent or vintage photos, please contact us.