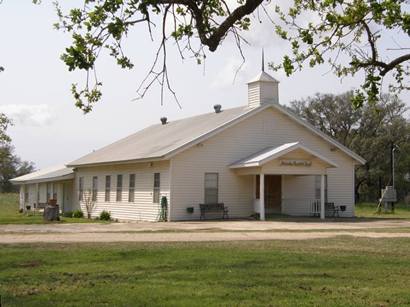 Historical Marker: From Floresville take SH 97 approximately 5.5 miles NE and turn S on CR 404 to cemetery.
Marcelina Community
Located on the Old San Antonio-Indianola Road, this rural settlement, named for nearby Marcelinas Creek, began in late 1873, when Wiley R. Franklin (1837-93) bought land in the area (1.5 miles S) and built a small horse-powered cotton gin. In 1874, a Baptist congregation was organized, holding services in the home of Gabriel Moffit; a one-teacher school opened in 1875; and the cemetery was begun in 1882 with the death of Martin Donaho. William Y. Elkins established a mercantile store in 1886, and was named postmaster when the post office opened on Feb. 1, 1887. By the mid-1890s, Marcelina had 2 stores, 2 cotton gins, a blacksmith and wheelwright shop, gristmill, large school and church buildings, and several homes.

From the beginning, the local economic base had been agriculture, primarily cotton production, but in 1901, the crops became infested with boll weevils and the prosperous community began to decline. Improvements in transportation diverted trade to Floresville (5.5 miles W), and the advent of rural mail delivery caused the post office to close on Oct. 1, 1906.

All that remains of the Marcelina Community are the cemetery and the Baptist Church. The present sanctuary was erected in 1935. (1974)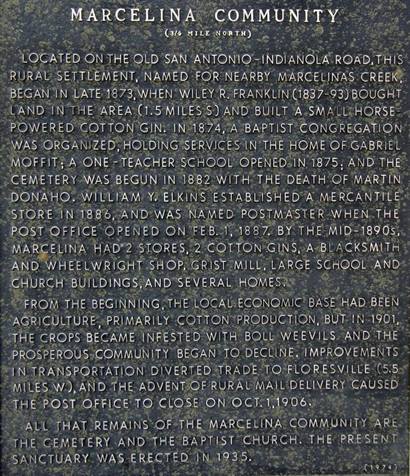 Marcelina Community Historical Marker
Photo courtesy Barclay Gibson, 2008
Marcelina Cemetery
AKA Marcelina Baptist Church Cemetery
Hwy 97, CR 404
Photo courtesy Barclay Gibson, 2008
Historical Marker: E on Hwy 97, S on CR 404; next to Marcelina Baptist Church
Marcelina Cemetery
In 1876, Isaac and Malinda Sims moved from Mississippi to Wilson County's Marcelina community. Seven years later, they deeded part of their land for a burial gound and the Marcelina Baptist Church. Samuel Foster, Isaac's stepbrother, also deeded land, including the site of his mother's grave, for burial purposes. Over time the two cemeteries merged into one. The oldest marked grave, that of Martin Donaho, dates to 1882. The cemetery continues to be used by the community. A cemetery association, organized in 1954 by Sally Sims and others, still maintains the burial ground, which remains a link to the area's rich history.

Historic Texas Cemetery - 2003
Wilson County 1907 postal map showing Marcelina NE of Floresville
From Texas state map #2090
Courtesy Texas General Land Office
Texas Escapes, in its purpose to preserve historic, endangered and vanishing Texas, asks that anyone wishing to share their local history, stories, landmarks and recent or vintage photos, please contact us.