CENTER, TEXAS
Suggested slogan:
"Our courthouse is so beautiful, we don't need a slogan."

Shelby County Seat, East Texas
32 NE of Nacogdoches
At the intersection of Hwy 7 & 87
Just E of Hwy 96 in the middle of Shelby County
17 miles W of Louisiana's state line
Population: 5,254 (2010) 5,678 (2000)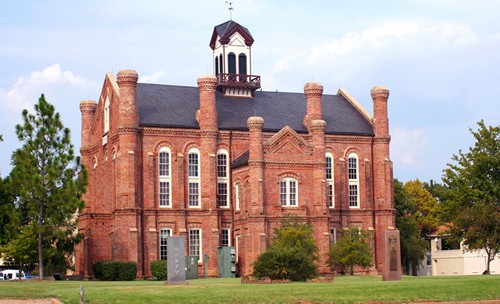 Like the town of Centerville (Leon County), Center was named for its location at the center of Shelby County.

History in a Pecan Shell
Margaret Wilson and Jesse Amason donated the townsite in 1856 or 1857. In an 1866 election Center became the county seat, in one of Texas' county seat disputes. In August 1866 the county records were stolen and brought to Center, putting an end to the dispute. A post office opened there the same year - further cementing the permanence of seat of county government.

In 1882 the courthouse burned. It was replaced by the current courthouse which is usually regarded as one of the handsomest in Texas .

In 1904, The Gulf, Beaumont and Great Northern Railway came through.
The 1885 Romanesque Rivival courthouse is worth driving out of the way to see. Inspired by the castles in his native Ireland, architect John Gibson also included a fenced cupola in this handsome and unusual brick building.

See Shelby County Courthouse by Lou Ann Herda

The courthouse and matching (former) jail make Center an East Texas weekend destination in itself.

The spacious square shows the two buildings to their best advantage, however there's more. Right in the Center of the Piney Woods, the city took the time to plant a wide variety of trees on the courthouse lawn. In addition, the trees complement the courthouse, rather than obscure it. A long row of hitching-rings are set into the curb on the West side of the square.

Center Hotels > Book Here
L - Hitching Rings on Center's Courthouse Square

R - The Old Jail Now Center Chamber of Commerce

TE photos
More Center, Texas Attractions
Sabine National Forest - Entrance 11 miles SE on Hwy.87
Shelby County Museum is one block off the square on the corner of Pecan and Thomas Streets.
Tel. 936-598-3613

Scenic Drives

Hwy 87, FM 417 and FM 2694 to Boles Field Recreational Area, and other Forest Services Roads in Sabine National Forest

Center Tourist Information
Shelby County Chamber of Commerce - In the former jail.
100 Courthouse Square A-101, Center Texas 75935.
936-598-8163

Center Hotels > Book Here
Center, Texas Chronicles
POWs in East Texas by Bob Bowman
"Through the efforts of the Texas Historical Commission and the Pineywoods Foundation of Lufkin, historical markers are being placed at the sites of each camp at Lufkin, Alto, Center, Tyler, Chireno, Tyler and San Augustine...

Using only shovels, German prisoners built at Center an Olympic-size swimming pool that was used for years by the town. Center Mayor John Windham, who helped dedicate Center's historical marker in January, recalled that County Agent John Mooseburg was instrumental in bringing the POW's to the town as labor for agricultural work.

With a peak capacity of 700 prisoners, Camp Center was the largest POW camp in the U.S." more


The Legend Of Bone Hill by Bob Bowman
Bone Hill, a landmark standing about four miles northeast of Center, reportedly got its name from a herd of cattle who died atop the mill, leaving their bones to whiten in the East Texas sun. But, as with all legends, there's more to the story... more


Hanging Tree: The Haunted Tree of Shelby County's Square by James L. Choron
"There are too many people still around who remember the last time someone tried to cut it down."


School Days - A Ghost Story by James L. Choron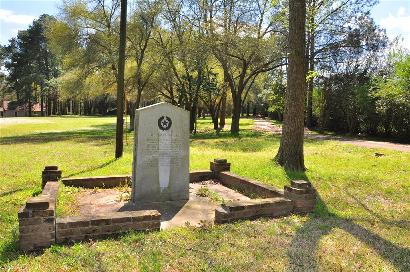 The Regulator-Moderator War by Archie P. McDonald, PhD

A feud that grew into a war erupted in East Texas in 1839 and raged until 1844, with occasional flair ups at various times for years afterwards.

It started in Harrison and Shelby counties but eventually involved San Augustine, Nacogdoches, and other East Texas counties.

One side was called the Regulators, who, as their name implies, wanted to "regulate" the activities of rivals. Naturally, the Moderators wanted to "moderate" being "regulated." Now it gets confusing... more
Texas Escapes, in its purpose to preserve historic, endangered and vanishing Texas, asks that anyone wishing to share their local history and vintage/historic photos, please contact us.
Custom Search