Texas | Vintage Photos
THE LAMESA LOBOS
Baseball in West Texas 1948 - 1950
Far from Fame, their Main Game was to Entertain.

by Steve Pinto
Vintage photos courtesy Dan and Steve Pinto
Dan Pinto "Putting On Tag" Caption states: "...and then smile."
Editor's note: Abbott and Costello may never have come up with their famous "Who's on first" routine if they had been attending games in West Texas in the 50s. Pinto's on First, Catanzarita's on Second and Grzywacz's on Third doesn't exactly roll off the tongue. Our thanks to Dan and Steve Pinto of the San Francisco Bay area for sharing these rare postwar photos of life on and off the diamond in and around Lamesa.

The West Texas-New Mexico League was a professional baseball league that ran from 1937 through 1955. It started out as a Class D League but was upgraded to Class C in 1946. The Lamesa Lobos team started in 1939 and continued until 1952 briefly changing their name to the Lamesa Dodgers for the 1942 season. The team was inactive from 1943 - 1945 during the peak years of WWII.

Dan Pinto, my father, was one of the more versatile Lobos playing all infield positions as well as outfield. He was later drafted by the Dodger's organization. These photos were all taken between the 1948 and 1950 seasons and are part of my father's photo album. The players were not pampered like the professional players of today are. They were housed in a building that they affectionately nicknamed "Skid Row" in Lamesa and traveled the back dusty roads of West Texas and New Mexico in an old Ford station wagon. My father, a native of Richmond, California said that the players were treated like kings through West Texas and New Mexico. "After all, we were the only entertainment in town", he observed.
- Steve Pinto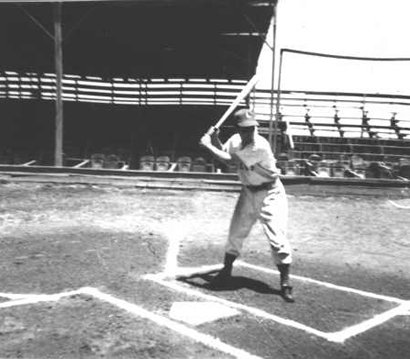 Dan Pinto at Bat - 1949 Spring Training
Lamesa Lobos 1949 Official Team Photo
Lamesa Loboes 1948 Official Team Photo
Before they became the Lobos
Lamesa Lobo Park in the late 1940s
Vern Kohout and Ed Arthur with the Ford station wagons the team traveled in
John Catanzarita "The "Cat" at Jay Haney's Service Station
Dan Pinto and John Catanzarita at Jay Haney's Humble Station
Sampling the local cuisine
Hank Mellilo and Stan Grzywacz
Dan Pinto and Hank Melillo
"Measuring the bowlegs of a cowboy"
Dempsey Sterling and Hank Mellilo
Dan Pinto on the patio of the Hotel Franciscan in Albuquerque
Forum:
Subject: Lamesa Lobos
I was looking through some of your pictures & noticed those of the Lamesa lobos... My dad, Joe Locke, played on that team & I saw him in the team pic. Is there any way I could get pics of those? Please let me know, Thank you. - Patti Bradstreet, November 23, 2011. nanny779096@yahoo.com
Texas Escapes, in its purpose to preserve historic, endangered and vanishing Texas, asks that anyone wishing to share their local history, stories, and vintage/historic/contemporary photos of their town/subject, please contact us.
Custom Search
Book Hotels - Expedia Affiliate Network