BLUEBONNETS IN PARADISE
by Carolyn Heinsohn

God lovingly took out His paintbrush
and pondered about the exact hue
He would choose to paint Paradise;
He finally decided on bright blue.

Fayette County was truly blessed
to become His special chosen one.
After blue covered its rolling hills,
He smiled and said, "Job well done!"
It was a good year for wildflowers in Fayette County and one of the best places in the state to see them is the old city cemetery in La Grange. While the range of wildflowers can go from Hill County to the north down to DeWitt or Bee County to the south, nowhere are they thicker than the hills of Fayette and Washington County. La Grange is almost equidistant between Austin and Houston, and Highway 71 is divided and safe.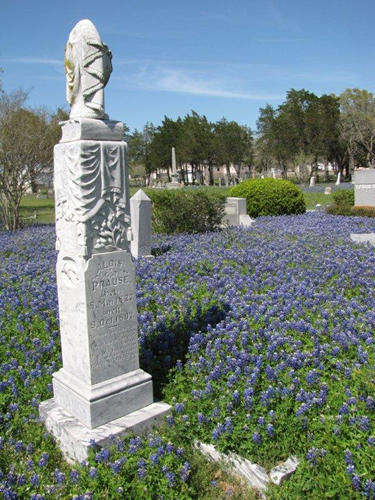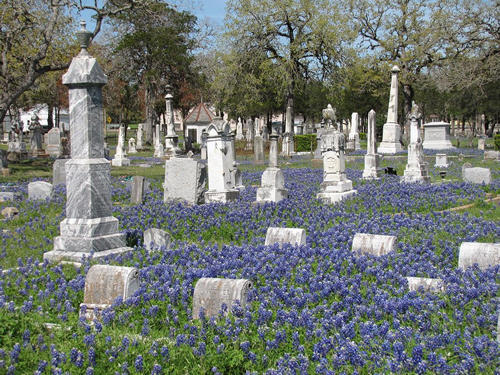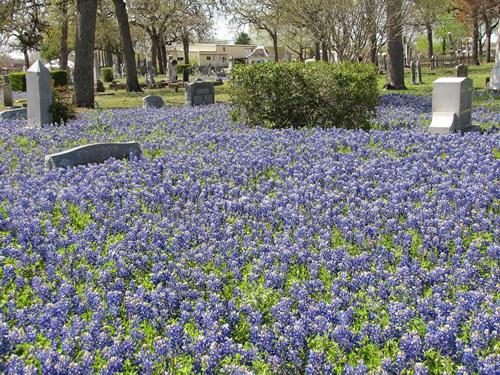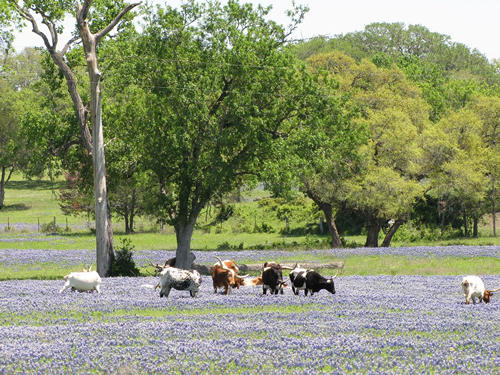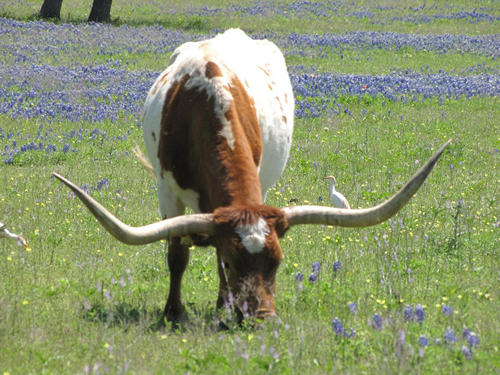 Independence, Texas (in neighboring Washington County) is another popular spot for visitors to take photos. The ruins of Old Baylor University provide a dramatic backdrop for wedding parties, engaged couples and new parents. (See Friday Afternoon in Spring at Old Baylor Park) It has been said that even Washington County law enforcement has been known to take suspects to Independence for their mug shots (weather permitting).

The urban (or in this case, rural) myth that state troopers will shoot people who pick bluebonnets is a slight exaggeration. And while motorists will see numerous babies that appear to sprout from Paintbrush or Mexican Hat groupings, please note the people nearby with cameras. Texans can not be considered "authentic" unless they have a photo of themselves as a baby (clothing optional) in a field of Bluebonnets.
When the Swallows Come Back to Smithville
TE Photo, May 6, 2010
Depending on the timing, it is possible to see the start of swallow season – which continues through the entire summer. Barn Swallows built their nests under overpasses –and over underpasses from Houston to Austin and San Antonio. Darting above (and into) traffic, they make countless trips from standing water to build their nests of mud. Their agility is a marvel and collisions with vehicles is so rare, an entire season may pass without a single fatality (at any one location). The swallows also nest in eaves, SPJST Halls, courthouse belfries and in the case of Smithville (Bastrop County), they nest on Main Street above the doors of businesses. For all their charm in flight, swallows have a rather mean looking face – which they pass on to their children.

Our photos were submitted by Carolyn Heinsohn, a native of Fayette County and member of the FCHC.


Photos © Carolyn Heinsohn
May 3, 2014 Feature


More Texas Wildflower Trips
See Fayette County
Related Topics:
Texas Hill Country | Central Texas S | Texas Town List | Texas

Book Hotel Here >
Brenham Hotels
La Grange Hotels
More Hotels
Custom Search