"Rural Texas Gulf Coast"
1939
Artist: Milford Zornes
1908-2008
Photos courtesy Gerald Massey
El Campo Post Office Mural "Rural Texas Gulf Coast" by Milford Zornes
Photo courtesy Gerald Massey, March 2009
The Mural
Painted in 1939, the mural was removed in 1963 when the post office was redesigned. Stored for years with most of the glue and plaster still attached, it was restored in 1984 at a cost of $14,650 and remounted in the traditional mural location – over the postmaster's door.

Visitor's note: Although most post office murals can be visited at any time of day, the modernization of the El Campo post office has separated postal boxes from the counter, making the mural accessible only during hours of operation.
El Campo Post Office Mural detail - Milford Zornes signature
Photo courtesy Gerald Massey, March 2009
The Artist
Born near Camargo, Oklahoma in January 1908, Milford's father attempted to raise livestock there before moving to California via Boise, Idaho. His first formal art lessons took place in high school and after a short-lived stint as a photographer, he moved to Santa Maria, California and later to San Francisco. In 1927 he enrolled in the Otis College of Art and Design which was then simply known as the Otis Art College. He later taught at the school and became art director for the Padua Hills Theater in Claremont, California. During WWII he served two years in the U.S. Army in China. He became well-known as a California artist and his work is included in collections of the Metropolitan Museum of Art, The Library of Congress, the White House Collection and the Los Angeles County Museum of Art. He painted at least two post office murals – the one featured here and the other in Claremont, California. It was in Claremont that Zornes died in February of 2008 – having reached the age of 100 years and one month.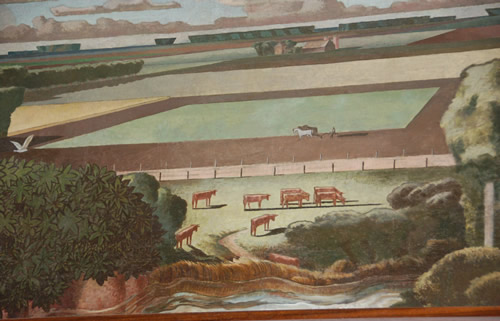 "Rural Texas Gulf Coast" detail
Photo courtesy Gerald Massey, March 2009
"Rural Texas Gulf Coast" detail
Photo courtesy Gerald Massey, March 2009
"Rural Texas Gulf Coast" detail
Photo courtesy Gerald Massey, March 2009
"Rural Texas Gulf Coast" detail
Photo courtesy Gerald Massey, March 2009
Mural detail. TE Photo, 2000
Mural detail. TE Photo, 2000