---
---
---
Wild Rose Pass in Limpia Canyon
Photo courtesy Sarah Reveley, 2007
History in a Pecan Shell

Unnamed Peaks
The two mile-long pass ranges from 4,320 feet to 4,546 feet above sea level. Ironically, the taller mountains east and west of the pass are 700-900 feet higher, but remain unnamed.

Rangers, Engineers and a Desert Rose
In late summer of 1848 Col. John Coffee Hays of the Texas Rangers was sent to find a practical wagon road to El Paso. After 107 days of great hardship and nearly dead of starvation, they returned to San Antonio with little more than the answer – "Yes, a road was possible."

In December of 1848, Lt. William H. C. Whiting and Lt. William F. Smith, both from the Army Corps of Engineers, were given orders to explore the same route – through military eyes. They left San Antonio in February of 1849, with Whiting commanding the small detachment. Whiting is credited with naming the pass in 1849 after the Demaree rose, native to the region.

Texas Legend (and former) Texas Ranger William A. (Bigfoot) Wallace, who once carried mail by foot from San Antonio to El Paso later drove a stagecoach along the Skillman mail route which included the pass.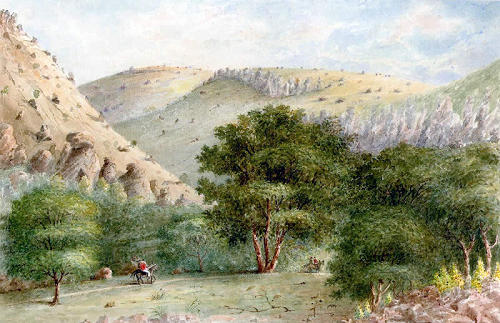 Wild Rose Pass - A passageway through the Limpia mountains
(today known as Davis Mountain)
Wikimedia Commons
What's black and white and red all over?
According to the illustrious Handbook of Texas, in 1859 a mail stage was attacked by Mescalero Apaches who killed the guard and stole the mail. Their curiosity over the illustrated newspapers in the mail (or perhaps the crossword puzzles) delayed their escape and pursuing troops caught them, killing 14 of the group. Survivors told the story back home and unwilling to admit being distracted, blamed the papers – declaring them to be bad luck.

In 1936 the pass qualified for the Centennial Marker shown here.
Wild Rose Pass Centennial Marker close-up view
Photo courtesy Sarah Reveley
Marker Text:

WILD ROSE PASS
IN EARLY DAYS
THE INDIAN TRAIL THROUGH THESE MOUNTAINS
FOLLOWED THE GORGE BELOW
KNOWN AS LIMPIA CANYON.
TO AVOID THE FLOODS
TRAVELERS OVER THE SAN ANTONIO-EL PASO ROAD,
EMIGRANTS, U. S.TROOPS AND SUPPLY TRAINS,
AND THE MAIL
CHOSE THIS HIGHER PASS
FAMED FOR ITS WEALTH OF WILD ROSES
Photographer's Note:
These photos were taken in January (2007) when the wild rose bushes were bare, but I noticed that travelers had attached artificial roses as a tribute to the earlier pioneers. - Sarah Reveley

More Texas Centennial
---