Vintage Photos
GRAY MULE, TEXAS VINTAGE PHOTOS
1935/37 Photos courtesy Billie Mayhall Freeman
"I started school at Gray Mule and my Dad ran the store there for a short time. I have some photos of the railroad tunnel and also of the front of the old store and the large brick walls around parts of it. My sisters and I (there were four of us) are sitting on the wall with three of us in the crocheted dresses our mother had made for us. There is also a photo of my Dad standing in front of the store's plate glass window. There is a small part shown of the Cotton Gin that was owned or run by the Keisling family. Margaret Keisling married my first cousin.

We lived beyond Quitaque Creek on a farm before that then moved into Quitaque where we four girls all graduated high school, two with honors. The Great Depression / "dust bowl days" were just ahead of us and life became much harder after that. Those days were "The Good Ol' Days."

I love your website and going down memory lane regarding many of the old towns that no longer survive in the Texas Panhandle. Thank you very much." - Billie Mayhall Freeman, Naples, Florida, September 2010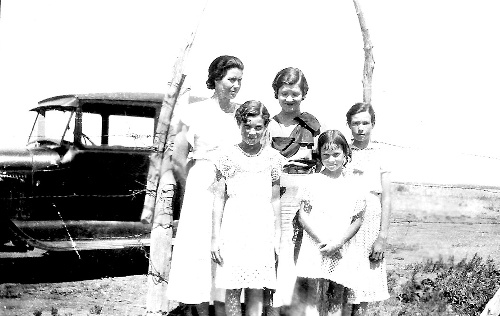 "My sisters and I in the crocheted dresses our mother had made for us."
"My sisters and I (there were four of us) are sitting on the wall."
"My Dad ran the store there for a short time."
"A photo of my Dad standing in front of the store's plate glass window."
"The Cotton Gin (background) was owned or run by the Keisling family."
Railroad section crew by their quarters.
The section house and car.
Railroad Tunnel and Section Crew in Snow
"The tunnel is about 2.5 miles SW of the Gray Mule marker and measures about 1/8 mile in length. It is now home to hundreds of Mexican free-tail bats (completely harmless)." - David Higgins of Lubbock, September 2005
Close-up of the section crew
Close-up of section crew in snow
Section crew entering tunnel
Close up of section crew entering railroad tunnel
by Billie Mayhall Freeman

Gray Mule was officially named Edgin as it was at first a place where the trains stopped to put on more water for its engines which I guess were steam. I am not sure of who started calling it Gray Mule but it never showed up on maps, and probably neither did Edgin. It was always called Gray Mule by locals and probably everyone else except the train folks.... more
Texas Escapes, in its purpose to preserve historic, endangered and vanishing Texas, asks that anyone wishing to share their local history and vintage/historic photos of their town, please contact us.