History in a Pecan shell

Perry dates from 1852 - and it looks it. Things didn't really get moving until 1872, when the railroad* extended their tracks from Bremond to Ross.

In 1876 a post office opened under the name of Peyton, but was renamed in 1883 in honor of Albert G. Perry, a long-time resident who also happened to be county judge and a signer of the Texas Declaration of Independence. People promptly forgot Peyton, whoever he or she was.

In the mid-1880s Perry had a population of 250 with cotton gins, gristmills, stores, and a hotel. By 1900 the population had another 100 persons to make Perry a respectable 350. Five years later Perry schools had an enrollment of 140 students in three schools.

Perry reached its population high-water mark of 400 in the 1920s through the 1930s. It declined during the war years. Perry's Schools were consolidated with Marlin's in the mid 1960s and the recorded population was down to less than 100 from the 70s to 1990. *Waco and Northwestern division of the Houston and Texas Central Railroad

George Lester on Perry
Churches in Perry next page
Mary, Mary, Once of Perry by Toney Urban next page
Perry Trinity Lutheran Church
Photo courtesy of Barclay Gibson, July 2004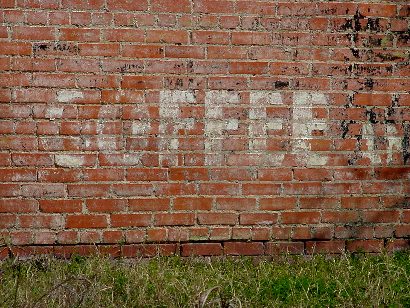 For readers who have followed the adventures of the young love-struck George Lester, this town answers the burning question of what happened to the object of his affection (Penny) after she left Spunky Flat.

George recently visited the town of Perry. Photo captions and the text below are from George.- Editor

"Penny asked me to drive up north of Marlin to see her parents old farm place in Perry where they lived after moving from Spunky Flat. We almost drove past the town because she didn't recognize it due to the state of disrepair.

Penny stayed with her parents here before their house burned, so she knew the town very well."

"Penny's parent's house burned down and the owner of this liquor store let them stay in a back room until they could build a new house. Her dad served as night watchman to pay for the rent. Many times he earned his keep by chasing off would-be burglars."

"The church in Perry was only a few hundred yards from the family's house and Penny's first child, Donna Jean would beg to go to the church and play the piano that was in the pavilion (photo above). She is now 58 and plays the piano still."

"In the forties Waco went dry so the town opened up a bunch of liquor stores to supply Waco's drinkers. During that time the town was booming. Later, Waco went "wet" again so the liquor stores and everything else died in Perry." - George Lester

Perry United Methodist Church about a mile northeast of Perry.
Built 1884-1885 of pine and cypress. "It appeared to be in pretty good shape for 119 years."
Photo courtesy George Lester, 2003


The pavilion behind the church
Photo courtesy George Lester
One of Perry's old liquor stores - once guarded by Penny's father.
Photo Courtesy George Lester, 2003
An outhouse nearly obscured by bloodweed
Photo courtesy George Lester, 2003
Mary, Mary, Once of Perry
by Toney Urban
Unbelievable, but true stories connected to Perry, Texas

In the late 40s and early 50s, there was a Black lady named Mary (last name unknown), that would arrive out in the countryside near Perry, Texas and dispense some incredibly amazing medicine and conversation.

This would take place the 17th of each month. Her following, if you prefer to call it that, was enormous. Each time I was there (possibly some 20 times) I saw 75 to 100 people - with about 50 to 60 cars. This was just a few yards off the highway out in a pasture... more
Perry Texas Forum
Subject: Toney Urban on Mary
I'd like to thank Toney Urban for his wonderful writeup on Mary!!! You did a great job, Toney. Just facinating. I wish I'd gotten to meet her. Do you have any more stories? I'd love to read them. - Best, Diane, Williamson County, Texas, March 16, 2006

Book Hotel Now > Waco Hotels
Texas Escapes, in its purpose to preserve historic, endangered and vanishing Texas, asks that anyone wishing to share their local history, stories, and vintage/historic photos of their town, please contact us.
Custom Search
Book Hotels - Expedia Affiliate Network