History in a Pecan Shell
Rhonda was settled in the early 1880s, and a cemetery gate shows that it was there by 1881.

Census figures are hard to come by, but there were about 75 Rondans living there when the school opened in 1893.

A post office opened in 1889 but moved to Harrold in 1907. Likewise, the Ronda school consolidated with the Harrold school in 1929.

Today nothing remains of the town but the Ronda Cemetery.

The Rhonda cemetery is one of the many "haunted cemeteries" featured in Olyve Hallmark Abbott's Ghosts in the Graveyard.
---
Ronda, Texas Forum
Subject: Ronda, Texas

I'm glad I finally found some information on the real story of Ronda. My family moved to Vernon in my early teen years, and I attended and graduated school from Harrold, TX. I knew of some of the history of Harrold, such as it was founded by ranch hands from the Waggoner ranch. I had never known of the consolidation of Harrold and Ronda, or of the relocation of Ronda's postal office to Harrold.

What is funny, is after I graduated, I moved on over to Electra. On the weekends us kids would go out into the country, and find us a deserted county road to drink beer. And on one of these such outings, we ran across the Ronda cemetery by pure coincindance. We pulled into what we thought was just a pasture gate to turn around and go back to town, when we looked up and saw the big iron gate header with the words "RHONDA" and I believe the date read 1893 ( it's been 25 years) Well needless to say we were all very intrigued. It was really spooky, this cemetery out in the middle of nowhere and miles from anything. If you didn't know where to look, you would probably drive right by it without even knowing it was there. We got out and climbed the gate and walked in with only a dim lit flashlight. There was four of us boys, and our imaginations were running wild. As we reached what ancient tombstones that were still erect, we could feel our skin crawling, and felt as if something was hiding in every shadow. We read what tombstones we could, and every one that we could read had a death date within the same few years..... all around 1893. There were several babies, and most were of a young age, in their 30's & 40's. So we were now even more intrigued. We eventually left, and went back to Electra. The next day, we had a story to tell all our friends, but I was still interested in this "ghost" cemetery. I had a neighbor who was in his 80's and was quite the character...... so that afternoon I couldn't help but go ask him about this amazing place I had found. He proceeded to tell us the "history" of Ronda.

He told us that Ronda was a very big town back in the late 1800's and the whole town came down with smallpox. And within a matter of no time at all, everyone died of the disease. He said the town was quarantined and no one was allowed in or out until everyone had finally perished. That explained to us why all the tombstones were dated at around the same time. So with this information, we loaded up to go find this place again, and we spent the next several weekends looking for this place. None of us could remember just where it was. No one in town knew of its exact location. And finally after a few months, and again by accident, we found it again. We had actually been trying to go somewhere else and took a wrong turn, and went to turn around again, and again ended up in front of the Ronda Cemetery iron gate. So from then on, it became a place we would take our girlfriends to scare them, or take others out to show them, or go "ghost hunting". But until today, when I read your article, did I finally find out the truth about Ronda, Texas. I did for years inquire about Ronda, but it seemed the only one that had any knowledge of the town, was my old neighbor. I never knew if he was telling us the truth or not, but he swore by it. But I also knew he was well known for spinning yarns, so I always had my doubts. - Jason Smith, September 09, 2016



Ghost Town of Rhonda, Texas

I used to live about one mile from the townsite of Rhonda. It is actually six miles due south of Harrold, Texas. The only thing left are several foundations as well as a huge brick- lined cistern about 300 yards south of the former townsite. I assume this was the source for drinking water for the town. The site is now on private property. If anyone is interested in Rhonda, Texas, they can get in touch with me and I can provide additional information. You may include my e-mail address: Aquanino@aol.com - Glenn Collier, Iowa Park, Texas, September 3, 2006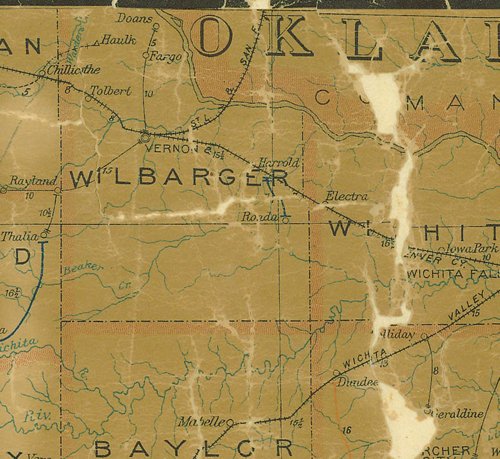 Texas Escapes, in its purpose to preserve historic, endangered and vanishing Texas, asks that anyone wishing to share their local history, stories, landmarks and recent or vintage photos, please contact us.