---
History in a Pecan Shell

The town had been a stop on the San Antonio-Brownsville stage line. It was known as Santa Margarita Crossing before Nicholas Bluntzer moved into the area about 1860.

The school for the town was opened in the 1870s, but flooding by the hurricane of 1919 necessitated its relocation. Justina Bluntzer, daughter of Nicholas, donated the land for the school. The school held classes until it was consolidated with the Banquete ISD in 1971.
Blunzer School & Casa Blanca Land Grant historical marker
Photo courtesy Gerald Massey, October 2010
Historical Marker

Casa Blanca Land Grant

The first spanish land grant awarded in what is now Nueces County was the Casa Blanca Land Grant. Granted in 1798 by the spanish government to Juan Jose de la Garza Montemayor (1765-1816) and his three sons, Juan Manuel, Jose Perfecto, and Jose Agustin, it was located between Penitas Creek and the Nueces River. Originally called Penitas Grant, it consisted of 70,848 acres, or sixteen sitios of land.

The Montemayor family established a ranch near Penitas Creek. Since it was near the site of Casa Blanca Fort, it became known as Casa Blanca Ranch. Under continual attack by indians, the ranch remained in the Montemayor family until 1849, when it was purchased by William Mann (1818-1855). Mann later divided the lands and sold portions to area farmers and ranchers. Following his death, his heirs sold 22,000 acres to Richard King.

Eventually, oil was discovered in Nueces County, and the owners of the former Casa Blanca Land Grant became oil producers. Today, the principal industries on the Casa Blanca lands are oil and gas production, farming, and ranching. Lands included in the grant now lie in the counties of Nueces (44,042 acres) and Jim Wells (26,806 acres).
(1988)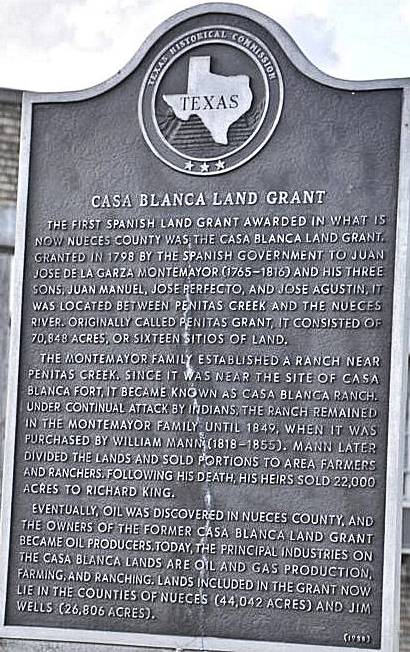 Casa Blanca Land Grant historical marker
Photo courtesy Gerald Massey, October 2010
Bluntzer, Texas Forum
[Your article] mentions that the Bluntzer school "was moved to land donated by Justice Bluntzer, a son of Nicholas Bluntzer." That is incorrect, it should read "was moved to land donated by Justina Bluntzer, a daughter of Nicholas Bluntzer."

I am a grand-nephew of Justina and great-grandson of Nicholas and am very familiar with the ownership of the Bluntzer School lands as I abut it. I have recently contacted the Texas Online handbook about the error as well. Thanks. - John L. Bluntzer, January 08, 2005
---
---