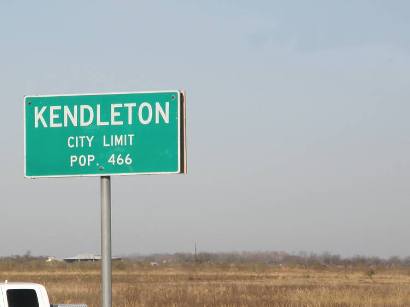 History in a Pecan Shell
Once a plantation belonging to William E. Kendall, it was subdivided after the Civil War and the lots sold to the former slaves. The community took the name Kendleton.

In 1882 the ambitious but under-financed New York, Texas and Mexican Railway Company (The "Macaroni" Line) passed through Kendleton on its way to Victoria. A post office was granted in 1884 and by 1890 Kendleton had a population of 25.

In 1896 Kendleton had grown to three stores, two churches and was the center of activity for the estimated 2,000 people who lived in the area. In 1900 116 residents lived in Kendleton proper.

The population of Kendleton declined to 36 in the mid 1930s and remained between 150 to 200 people through the early 1970s. Incorporated in 1973, the population increased to 600. Population was 466 in 2000, increased to the 2007 estimate of 525.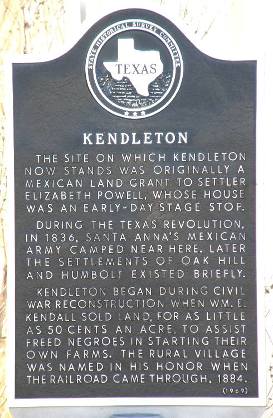 Historical Marker
Kendleton
The site on which Kendleton now stands was originally a Mexican land grant to settler Elizabeth Powell, whose house was an early-day stage stop.

During the Texas Revolution, in 1836, Santa Anna's Mexican Army camped near here. Later the settlements of Oak Hill and Humbolt existed briefly.

Kendleton began during Civil War reconstruction when Wm. E. Kendall sold land, for as little as 50 cents an acre, to assist freed Negroes in starting their own farms. The rural village was named in his honor when the railroad came through, 1884.
Photographer's Note:

Bates Allen Park is about a mile south of Kendleton on the San Bernad River. The Old Kendleton Cemetery is situated among some trees in the the middle of Bates Allen Park.. It is neither marked nor fenced. The New Cemetery is about 3/4 mile south of Kendleton on the road to Bates Allen. - Barclay Gibson, March 15, 2010
---
Texas Escapes, in its purpose to preserve historic, endangered and vanishing Texas, asks that anyone wishing to share their local history, stories, landmarks and recent or vintage photos, please contact us.