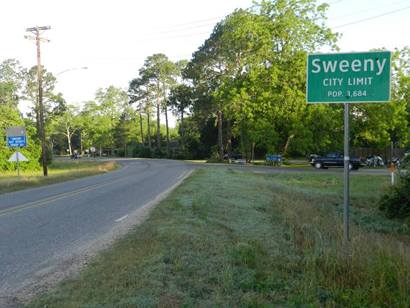 History in a Pecan Shell
Louisianan Physician Imla Keep, one of the "Old 300" original colonists of Austin's Colony received a grant of land here in 1824. But Keep was homesick and went back to Louisiana, leaving the land to one Martin Varner.

In 1833 the town's namesake, John Sweeny arrived from Tennessee with his family and 250 slaves. He had been preceded by his two sons who had come in 1831 and had written back to Tennessee of the cheap land. Part of John Sweeny's holdings included the tract that had belonged to Martin Varner.

In 1905 when the St. Louis, Brownsville and Mexico railroad arrived, the town was known as Adamston.

The post office that had been established in 1895, closed in 1897 and reopened in 1909 under the name of Sweeny.

Around 1910 the R. D. McDonald Bernard River Land Development Company, purchased the land and broke it into lots. In 1911 the town was plated by Burton D. Hurd, who sold ten acre plots. By 1914, Sweeny had a population of 200 and was a cotton shipping point. In 1918 the community had an orange grove and a brickyard. Oil was discovered nearby in the early 1930s and in 1938 a gasoline refinery was built.

During WWII, the refinery switched production to aviation fuel.

In the 1960s, Sweeny grew from just over 3,000 to 3.699 by the late 1980s.
Texas Escapes, in its purpose to preserve historic, endangered and vanishing Texas, asks that anyone wishing to share their local history, stories, landmarks and recent or vintage photos, please contact us.