One of the metal art signs lining Bandera main street
Photo courtesy Chia-Wei Wang, August 2006
Bandera became "Cowboy Capital of the World" in part because of its numerous Dude Ranches. The area became popular with San Antonians wanting to escape the city's summer heat - and in the 20s and 30s - with increased car ownership (Bandera never had a railroad) "Dude Ranches" started appearing. Several of the oldest are still in business today.

History on a Cypress Shingle

The numerous Cypress trees along the region's creeks provided wood for shingle manufacturing and a mill was set up in 1852. This was the first business in Bandera - although the end product was sold in San Antonio.

Polish immigrants entered the area and set up St. Stanislaus Catholic Church - the second Polish Catholic Church after St. Mary's in Panna Maria (Karnes County). Father Leopold Moczygemba, founder of Panna Maria also established the Polish community here.

See The Bandera Tragedy Tree

Several historical markers are in the immediate vicinity. One honoring the oldest founding resident (Amasa Clark who died at the age of 101) and another for the last Indian victim in Bandera County.
Bandera Area Attractions
Hill Country State Natural Area
11 miles southwest of Bandera 5,400 acres of primitive camping and equestrian trails. Over 4,500 acres provide trails for people who bring in their own horses to ride. The area was a gift from Louise Lindsey Merrick who presented it to the state in the 1970s. 830-796-4413
http://www.tpwd.state.tx.us

Frontier Times Museum:
13th Street at Pecan Street 210-796-3864
One of the more interesting museums in the state since it started so early (1920s) when historical items curios were abundant. Over 30,000 items on display.

St. Stanislaus Catholic Church: 7th Street and Cypress Street. The Church dates from 1876, although the steeple wasn't erected until 1906

Other architecturally interesting buildings are:
The Old First National Bank Building 309 Main Street
The Oldest Stone Building c.1855 Cypress Street at 11th Street
The Bandera County Jail designed by Alfred Giles c. 1881
The Huffmeyer Store at Main and Cypress c.1875
Bandera Hotels - Book here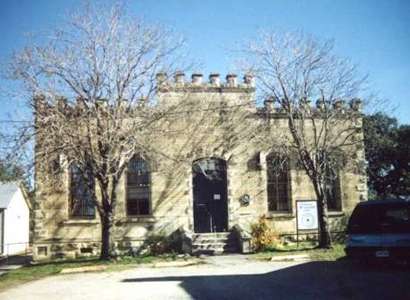 Bandera Pass Centennial Marker
TE Photo, 2001
Bandera is situated along the banks of the Medina River. The name, according to legend, was either named after a Spanish Officer named Bandera or after a large flag (Bandera) that marked the Bandera Pass - the agreed upon boundary that kept the Indians separated from the Spanish settlers. The pass was the scene of several encounters between Rangers, and Indians.

The pass is north 12 miles on Hwy 173 just north of the cutoff for FM 2828.
Downtown Bandera
Photo courtesy Chia-Wei Wang, August 2006
Bandera County Towns & Ghost Towns
Bandera County Seat - Bandera
Bandera County Courthouse

Lakehills
Vanderpool

Bandera Tourist Information
Bandera County Convention and Visitor's Bureau
1-800-364-3833

Bandera County Texas Chamber of Commerce
P.O. Box 171 Bandera, Texas 78003
Phone: 830-796-3045 Toll Free: 800-364-3833
http://www.banderatex.com/


Book Hotels Here - Bandera Hotels
Texas Escapes, in its purpose to preserve historic, endangered and vanishing Texas, asks that anyone wishing to share their local history, stories, and vintage/historic photos, please contact us.
Custom Search
Book Hotels - Expedia Affiliate Network