Bartlett School with a vintage slide
Photo courtesy Elizabeth Taylor, January 2005
Restoration
In 1990, the school board conducted a survey to determine what should be done with the building. It was almost to the point of taking bids for the demolition when James Persky, author of History of the Bartlett City Schools, the source of the above information, called Bobby Hill, Bartlett Area Historical Society president and also Mayor of Bartlett, and suggested soliciting contributions. At that time, James Persky gave the first $1000 and wrote a letter to the editor to the local newspaper. Others started contributing and promoting saving the building.

Fred Beversdorf, retired minister and local resident, organized a meeting that was moderated by Bobby Hill at Bartlett Town Hall. The purpose of the meeting was to see if there were enough interested citizens to work toward saving the building from the wrecking ball. The interested parties became known as the "Save Our School" group. The first meeting was held July 17, 1990. The school board gave the group two months to come up with a viable plan for the use of the building.

In the meeting with the school board in September 1990, the Bartlett Activities Center was granted a 25-year lease. The Articles of Incorporation for the group are dated March 8, 1991. The BAC later went back to the school board and requested a 100-year lease, which was granted.
- Kathy Jones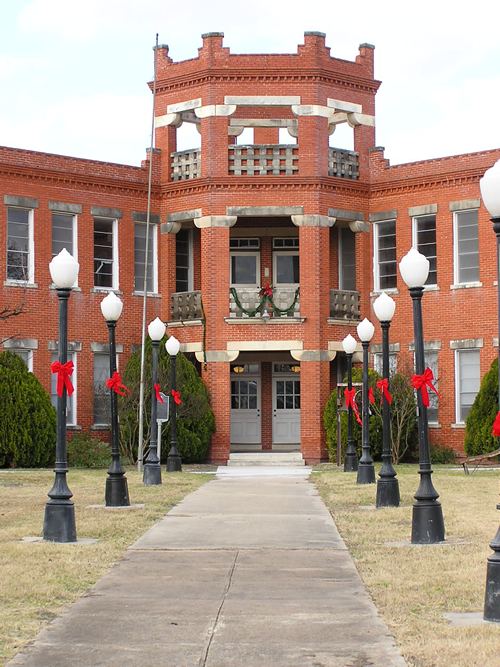 Photographer's Note:

Here are some pictures taken several weeks ago of the old school in Bartlett. What a great trip! The leading lights in the local historical society dressed up and met my wife and I. They gave me the Cook's tour of the school while my wife took pictures outside. They were very proud that folks on the outside were taking an interest in their project. They have done a wonderful job in the restoration process. After ending its role as a school, the building sat empty for some years; and when the historical society took over the building it was in bad shape due to roof leaks. Some of the before and after pictures are very impressive.

While the upper floor is being preserved as it appeared as a school, most of the lower floor is being used as a museum dealing with the history of Bartlett and the surrounding area. Another classroom on the lower floor has been turned into a sitting room/parlor designed for receptions or parties. A large portrait of a former teacher who taught there from the 20's to the early 40's hangs on the wall. Below the portrait is a snapshot of the same teacher at her birthday party .......last year. It was really touching.

The school is somewhat distinctive due to its floor plan and shape; while most schools of the era were built following a square or rectangular floor plan, this building has 16 sides. A Sanborn Fire Insurance map from 1940 illustrates my point. This building is highly distinctive and an overhead view such as a line drawing would add to the feature.

In conclusion, what the historical society in Bartlett has done is a model for what other groups in Texas should be doing to save old and significant architecture in the public realm. Of course, the two main problems the group has are money (what they have done costs a lot) and a use for the structure. Finding a use post-restoration is the tricky part. A building of this type is fundamentally designed for one purpose; and is tough to convert into a new mission.
- Stephen and Elizabeth Taylor
---
Historical Marker
Bartlett Grammar School
By the early 1900s Bartlett had become the railroad center of a prosperous cotton growing region. In 1903 the Bartlett Independent School District was created. By 1906-07 the 5-room schoolhouse here proved inadequate to house the district's expanding student enrollment. Bartlett enlarged the district's tax base and passed a bond election, and in 1908-09 a new multi-wing brick building, designed by noted Austin architect A.O. Watson, was built here. When a new high school was erected in 1917, the facility at this site became an elementary/grammar school. The school closed in 1988.
(1994)
---
The school as it appeared on a vintage postcard
Courtesy Bartlett Activities Center
Editor's Note:

It is our pleasure to report on the Bartlett School and to feature the hard work, expense and cooperation that went into saving the building. Our thanks to Stephen and Elizabeth Taylor for their photos and to Kathy Jones who worked with us in gathering other information.

The most important aspect of this restoration was that people got involved. So many communitees across Texas complain of lost schools, courthouses and historic buildings, but many of them would still be here if someone had taken the time to contact the people who can make a difference. Involving the city, churches and perhaps the historical society are all steps which should be taken before writing off a building to "progress."
---
Photo courtesy Bartlett Activites Center
---
Texas Escapes, in its purpose to preserve historic, endangered and vanishing Texas, asks that anyone wishing to share their local history, stories, landmarks and recent or vintage photos, please contact us.