---
Our coverage of the Briggs tornado was instigated by the following letter:

Dear Texas Escapes, On the day of April 13, 1906, the day after the Briggs, Texas tornado, these photos were taken by my grandfather, Joseph (Joe) Williams who lived on the Burnet / Bell county line between Oakalla and Maxdale, Texas, about 11 miles from Briggs. The photos included in this e-mail are scanned from a collection of 5 x 7 glass negatives left to me by my father, Ira Williams, son of Joe Williams. I graduated from Briggs High School in 1955 and it is my request, if possible, for these historic photos to be added to the existing Briggs [page] on Texas Escapes. There is also one photo of Briggs taken before the tornado, and two news items. - Jimmy Williams

The following text is excerpted from the report originally published in the Florence, Texas Vidette on April 14th, 2006 and supplied to Texas Escapes by Briggs native Jimmy Williams, grandson of the photographer Joe Williams, whose accompanying photos have been reproduced from the original glass plate negatives.
WIND, HAIL AND RAIN DO GREAT DAMAGE:
About One Half of the Town of Briggs Blown Away
31 Injured

A Very Severe Storm!
From a report by the Florence, Texas Vidette
"A general description of the stormy conditions which prevailed over the countryside the afternoon of April 12, 1906.

Heavy rains were reported: hailstones which were "as large as a medium-sized hen's egg" were picked up in Florence. The roaring of the storm "which could easily be heard in Florence was awe-inspiring."

The wires are all down leading into our little sister city, Briggs which is located 10 miles northwest of Florence. But the message came from there about sundown Thursday calling for our doctors and all other assistance that could be secured. Our two doctors accompanied by quite a number of men left for the scene, all having to go by horseback on account of the high water, mud and obstructions along the road.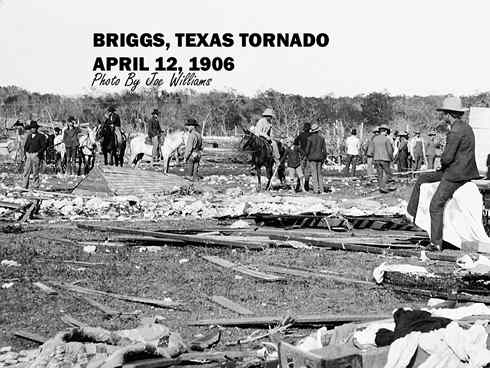 Upon arriving in the town, they had to get down off their horses and feel their way through the wreck on the streets. Wires were promiscuously across the streets: wagons, buggies, plows and all kinds of vehicles were piled here and yonder in almost all directions. Lots that had contained good houses were swept bare and the town resembled a complete wreck in the darkness.
Joe Hart, a clerk in one of the town's stores started to quit the building when it was in the act of wrecking, and just as he stepped outside, the storm picked him up and whirled him through the air when he caught a telephone pole and held a tight grip thereon until the storm subsided. Report has it that 16 persons were in one house when it was completely blown awa y- injuring none of the occupants. The storm cut a path 65 yards wide.
The story of the blacksmith Bob Patterson will serve to give you an idea of what conditions some people found themselves in after the storm: Every member of his family was found under the wreck of his home; not one escaped without a serious wound - and some of them perhaps fatal. Not a plank of his blacksmith shop was found on his lot and his tools have yet to be found. His residence was served in a like manner - and not a vestige of his household goods could be found. A new surrey that he had recently purchased was found to contain one sound wheel while the rest of it was twisted and wrecked until it was unrecognizable."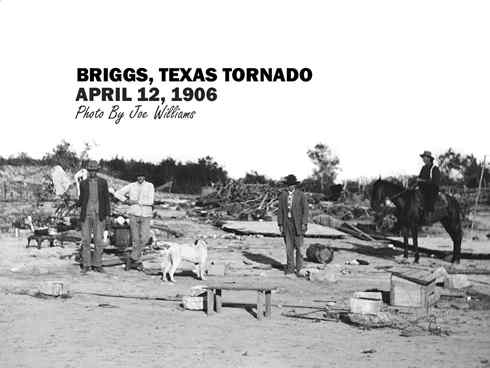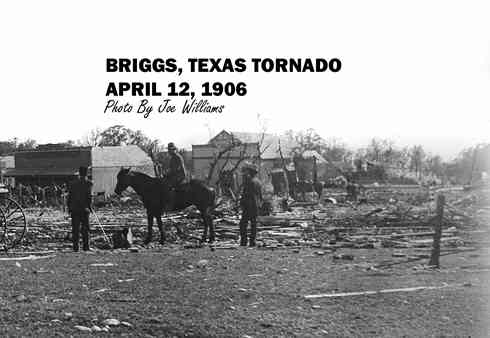 Some of the injuries included: "A boy of Dick Pulliam's - arm broken; a boy of Mark Langford - one eye out and the other injured. Two small boys of Mr. and Mrs. Patterson - one with an arm broken in three places and the other completely scalped, jaw bone broken and otherwise badly injured. Their mother had her shoulder dislocated and Arnet Tabor's back is supposed to be broken."
Buildings destroyed in the storm included the school, hardware store, two blacksmiths, three stores, the post office and a drugstore.
Briggs before the 1906 tornado
Photo courtesy Jimmy Williams
A personal note written by Ernest Landford was added to the above story. The epilogue stated "...the Langford boy who reportedly suffered "one eye put out and the other injured" - recovered completely and in his 55th year compiled the information which he included in his 1963 book Briggs: Brief Annals of the Times and People. Although in the newspaper account he was listed as "a boy of Mark Langford" - his full name was Ernest Landford (author of the piece).


More Texas Storms

Anyone wishing to share stories or photos of Briggs, Texas, please contact us.
---