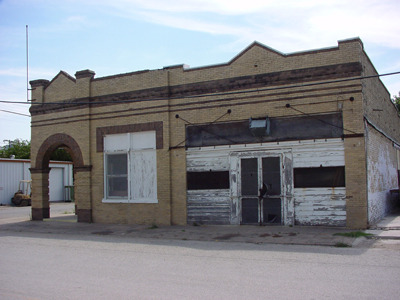 History in a Pecan Shell

The town had originally been called Stiles Switch in 1876 when the International-Great Northern railroad arrived at the site.

The Stiles school (named after a local ranching family) opened in the 1880s. The post office opened in 1901 under the name of Homer S. Thrall, a Methodist minister and historian who wrote a much-circulated history of Texas. The Stiles school expanded and was renamed the Thrall School in 1908.

The town was a farming and ranching center with a population of 150 by 1914.

Oil was discovered in 1915 and 200 wells were sunk on area ranches and farms. The estimated population approached 3,000 before falling to only 272 when the boom faded. Thrall's growth has always been under control - with a population of around 400 through the 1940s. In 1952 there were 584 Thrallites - nearly the same as the 593 people reported in 1988. In 1990 it had declined a bit to 550. The year 2000 reported a population of about 700.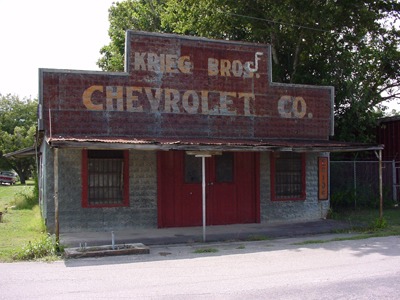 Krieg Bros. Chevrolet Co. today
Photo courtesy Erik Whetstone, 8-15-04




Krieg Bros. Chevrolet Co. in the 1950s
Postcard courtesy www.rootsweb.com/ %7Etxpstcrd/

Main street
Photo circa 1913 courtesy Gayle Abbott
Thrall Texas Forum
I saw the photographs you have on Thrall Texas, I happen to live in Thrall and that picture from 1913 has a striking similarity to main street right of highway 79 by the railroad tracks. I also saw the pictures of Kreig Cheverolet. We actually bought and restored the house that one of the brothers that owned Kreig Cheverolet owned in the late 50's. He owned the house till he passed on and gave it to their daughter who married a minister and moved to Dallas. We bought it from her in 2001. Great site - Justin Dilbert, May 30, 2005