History in a Pecan Shell

Griffin has no 19th Century history. It came into being in the 1930s on what had been the Campbell Ranch. Originally named Oasis - the name would be a fit description due to the barren terrain.

Henry D. Chipley, after failing to create a town he modestly named after himself in east Cochran County, had great hopes for Oasis although it had but one store and a transient population comprised mainly of oil workers.

In 1950 Oasis became Griffith for the banker (Karl Griffith) who had invested in the town's future by financing a grain elevator.

Griffith went on to own several other businesses in town - including the gas station. By the 1980s the population was down to just 25 residents and figures stopped after the 1980 census.

Lubbock Hotels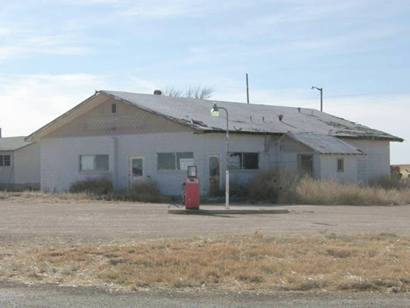 Photographer's Note:
The Grain Storage Elevator/Silo in Griffith was very unusual to me. Note all the guy wire to stabilize it against the wind. This may be a common practice but is the only one I have seen. Almost seems like it would have been easier to tear this one down and rebuild it. There are a lot of guy wires on this thing. Can you imagine the mess if someone had dropped a roll of wire from above in the midst of guying it? - Barclay Gibson, January 28, 2009