History in a Pecan Shell
The town's name is pronounced O. P. Dike - just as you would pronouce someone's name. The someone in this case was probably Charles W. Opdyke, director of the Santa Fe Railroad. It is also suggested that the name could've been after a relative of the man (W. A. Dykes) who had built the town's first cotton gin in 1937.

Opdyke had no 19th Century history. The town got started in 1925 - and it wasn't until 1945 that they had a population of 50. All activities revolved around the gin throughout the 40s and 50s with a service station/general store to serve the needs of the citizens. By the late 50s the Farmers Co-op Gin was the town's last business.
---
Opdyke, Texas Forum:
"My family lived in Opdyke during 1958-59. My father, Jesse Lee Minchew, was the cotton gin manager during that time. We lived in a house provided on the highway not too far from the gin. My sister and I (ages 6 & 8 yr old) played in the cast off old gin machinery and huge metal conduit tubes, pretending we were on space ships. My sister and I were the first ones on the Levelland ISD school bus and the last ones off. Long bus rides! I remember fondly of those times reading comments of Opdyke. Thanks." - Leanne Minchew Crawford, January 03, 2019


"Just a line to say that Opdyke, Texas is 5 miles EAST (not south) of Levelland on Hwy 114 a half mile west of Fm 2646. The store/gas station was open until the mid 70's and the Opdyke Coop Gin was the last business to close.

I have lived at or near three different ghost towns during my life. My family lived at Frankel City (Andrews County) in the Halliburton camp during the mid to late 50's. Then moved to a farm south of Draw, Texas (Lynn County) when my father started farming in 1961. Finally we moved to a farm between Levelland and Opdyke in 1964 in Hockley County. I seem to have a knack for closing small towns.

I have enjoyed reading the stories and looking at pictures of Texas on your web site." - George Childress Jr., July 13, 2010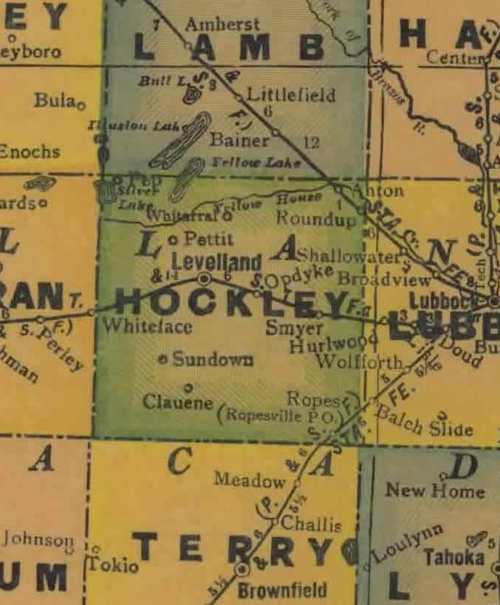 Texas Escapes, in its purpose to preserve historic, endangered and vanishing Texas, asks that anyone wishing to share their local history and vintage/historic photos, please contact us.