---
Texas | Images | Vintage Photos
Manor Texas Family Photos
Manor, Texas
c. 1920s
Doctor John A. Stroburg
Travis County's Swedish-born Physician
Vintage photographs courtesy Jay Berndt Stroburg
Doctor Stroburg on the Sanitarium Veranda c.1920
Locomotive in Manor c. 1920 (See Forum below)
Dr. and Mrs.Stroburg in 1910 Sterns with son John Berndt Stroburg at the wheel
Dr. John A. Stroburg with adopted daughter Lillian
Dr. Stroburg's Sanitarium in Manor, 1920
This is [Doctor Stroburg's Obit] from the Texas State Journal of Medicine, dated February, 1927:

"Doctor John A. Stroburg died at his home in Austin, Texas on October 22, 1926 after a brief illness. He was born in Lannaskede Province, Sweden December 3, 1858. In 1858 his parents immigrated to Moline Illinois where he received his academic education. He took a business course at Davenport, Iowa and later in Augustana College in Rock Island, Illinois. For a time, he taught shorthand,, bookeeeping, pennmanship and telegraphy in a business college in Grand Rapids, Michigan.

He took a job with the St. Paul and Milwaulee Railroad as a bookeeper and it was employed by the railroad that he was induced to take up the study of medicine. He graduated from Rush Medical College in Chicago in 1893. Immediately after graduation he wed Miss Sophie A. Walter and set up a practice in Cadillac, Michigan.

After a few years, he returned to Chicago as house physician at Augustana Hospital - where he also served as assistant to Dr. A. J. Oschner.

He later practiced at St. Francis and Mercy Hospital at Burlington, Iowa for four years before moving to Texas for his health. He made his home in Manor, Texas where his health was restored. He left Manor for two years to attend a post-graduate course in Chicago and then went to Berlin, Germany where he studied under some of the great masters of medicine. From Berlin he went to Hamburg for a course of several months, returning to Manor where he opened a small general hospital.-

In 1911 he removed to Austin where he entered the General Practice of Medicine. His change of residence and field of endeavor was incident to a physical depletion which followed a severe case of pneumonia, which rendered him physically incapable of holding up his country practice. He restricted his practice to a few friends, in the meantime traveling extensively in the effort to improve his health. He was operated on at the Mayo Clinic in August of 1926.

He is survived by his widow, an adopted daughter, a son, and a grandson."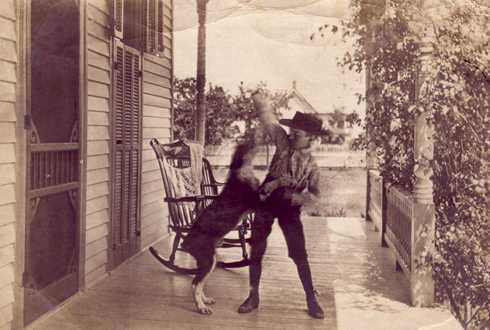 John Berndt Stroburg with best friend on the porch
Subject: Re: Manor Photos
Doctor John A. Stroburg was my great-grandfather.

I have a ledger book which documents the names of the doctor's patients, their ailments, and the cost of the remedies offered. Since he was in Manor, this must represent many of the residents of the area. These few photos are undeniably of Manor, but I have hundreds of others which are surely of the central Texas area and document the times.

Attached is some correspondance between the Doctor and the Travis County Sheriff and the letter of their concern.*
- Jay Berndt Stroburg

*The letter mentioned was hate mail addressed to the doctor - warning him to leave Manor and threatening his life if he didn't take the advice. The rambling barely-coherent letter was forwarded to the Travis County Sheriff who assured the doctor that cowardly threats were not to be taken seriously, and that the Sheriff's office would would be available to help or investigate should any others arrive.
Forum:
Subject: Manor locomotive
I just took a closer look at the locomotive on the Manor site--the one that's supposed to be ca. 1920. That's a much older locomotive. That's an oil-fired headlight, & those things had been replaced by on-board DC electric generators & electric headlights by the 1890s. From the looks of the tender--I can't be real sure because it's not that clear--the fuel appears to be coal. By 1910 all locomotives in Texas were oil-fired. I'd put the date in the mid to late 1880s, based on the headlight, ignoring the fuel. - Charley Eckhardt, May 12, 2007
---