---
One of the railroad's locomotives warming up at Rusk
TE Photo, 5-02
The line runs from 3 miles west of the Rusk County courthouse square to just East of Palestine.

Between the two points is the village of Maydelle with several vintage buildings - including the depot and the former Cushing Hotel.

The park at the Rusk end has a lake, boat rental and a comfortable waiting room / museum.
Buffalo Soldier Sgt. Otis of the 9th Cavalry and a train crew member
TE Photo, 5-02
The train is made up of vintage coaches with comfortable seating and open windows - all the better to see East Texas up close. The line is cut through the red clay in some places - the same clay that made Marshall crockery and millions of bricks.
The train en route to Palestine
TE Photo, 5-02
Arrival on the Palestine side
TE Photo
Sweet Gum and Pine tree seedlings sprout from the clay banks, and ponds support thriving colonies of lotus plants that will be flowering throughout the summer.
The Engineer
TE Photo, 5-02
Locomotive refueling for the return trip
TE Photo, 5-02
History in a Pecan Shell

The penitentiary at Rusk was the second such institution to be built in Texas. In 1877 the state bought 19,000 acres to exploit the iron ore resources of the region. It gave prisoners something to do besides cross dates off their calendars and provided state buildings (including the Capitol) with railings, banisters, and hardware.
Special Care is taken with scheduling
Note: this mishap DID NOT occur on the Texas State Railroad
Old Postcard Photo
The Texas State Railroad was built with prison labor to furnish fuel for the prison smelter. The line was extended to Palestine in 1909. While the railroad was under construction the foundry closed - but more important than prison interests - was the fact that the railroad connected Rusk to the outside world. Rusk had been bypassed by two railroads and its economic future depended on having a connection to Palestine and the International and Great Northern Railroad.

The Rusk penitentiary was converted into the Rusk State (mental) Hospital in 1917. The railroad was leased to several private railroads and became part of the Texas Parks and Wildlife Commission in 1972.
The Texas Forest Trail
The Historic Commission is reintroducing their various trails and the Texas State Railroad is conveniently about halfway through the Forest Trail.

The trail winds its way through almost the entirety of East Texas - choosing towns for their historic interest and thereby including places that are frequently overlooked. The featured towns include villages as well as county seats and the trail maps also include information on places just off the "dotted line."

The railroad is a major attraction on the East Texas Forest Trail and is one of those must-see things if you have out-of-state visitors - particularly if they happen to have an interest in railroading.
The lake at the Rusk end of the park
TE Photo, 5-02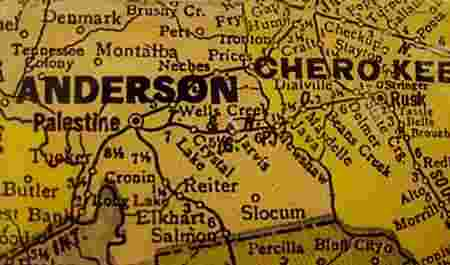 The 1940 Anderson and Cherokee County Census Map
showing the towns that once lined the route of what would become
the Texas State Railroad
Map Courtesy of the Texas General Land Office

---
Texas State Railroad contact information:
Texas State Railroad State Park
P O Box 39 Rusk TX 75785
1-800/442-8951 ( IN TEXAS ONLY )
903/683-2561
http://www.tpwd.state.tx.us/park/railroad/

See Texas State Railroad
by Archie McDonald, PhD, "All Things Historical&quot column

Book Hotel Here > Palestine Hotels
---
---
---