History in a Pecan Shell
Briefly known as Stemmons, Texas, Chicago was first named in jest after the landowner's hometown. The irony was that this Chicago had virtually no population compared to the "City of Big Shoulders." But a post office for area ranches did open in 1889, and the postal authorities recognized the name, whimsical or not.

A settlement did develop, necessitating a move of the post office in 1904. The joke was getting stale by that time and so the name was changed to Stemmons, after the surname of a ranch foreman.

When Dawson County was organized, the two contenders for county seat were Stemmons and Lamesa. Stemmons had been ordered to close their post office, but in order to give the community a fair shot and not influence the election, postal authorities allowed the two post offices to exist until after the 1905 election. Lamesa won by a mere five votes.

The Stemmons post office closed and the offer of help in relocation businesses was taken up by Stemmons residents. In the span of a few days in July of 1905, the community of Chicago / Stemmons became a historic footnote.

Chicago is remembered today by a historical marker and a Lamesa street named after the short-lived town.

Lamesa, a city mostly set up on a grid of numbered streets and avenues does have a few streets named after cities. The mix is an interesting one, including Akron, Boston, Detroit, Flint, and Hartford – and of course, Chicago.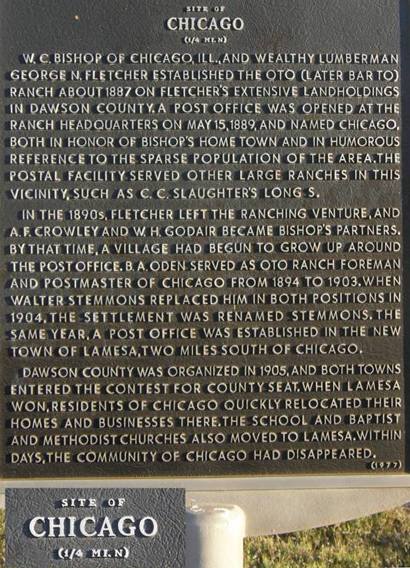 "Site of Chicago" historical marker
Photo courtesy Barclay Gibson, April 2009
Texas Escapes, in its purpose to preserve historic, endangered and vanishing Texas, asks that anyone wishing to share their local history and vintage/historic photos, please contact us.
Custom Search