History in a Pecan Shell

Iatan began life as a stop on the Texas and Pacific Railroad in 1881. It was also known as Vista, Texas and the unusual name is thought to have come from the Williams-Waddell Iatan Tank Ranch.

A post office opened in early 1890 and served the residents until the mid 1920s when it moved to nearby Westbrook. Iatan's school merged the Westbrook schools in 1938 when there was an approximate population of 125. It dropped to a mere 20 for the 1950 Census and remained at that level for years.

By the 1970s only a depot remained – and today only the cemetery.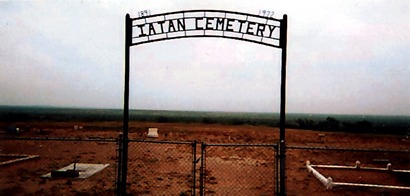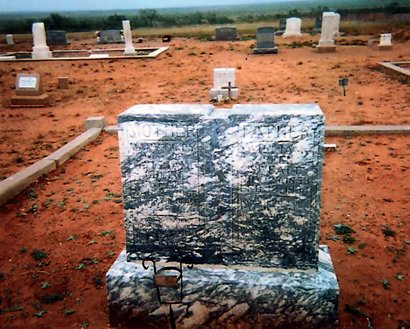 Iatan was suggested for inclusion by Mr. & Mrs. Sayles who wrote:
We would like to add the small town of Iatan (pronounced  like "I can" only "I tan") which was located between Colorado City and  Big Spring. Iatan became a Ghost Town in the 1960s. Empty stores and empty houses lined the dirt road of town. The buildings are now gone; but for those of us whose ancestors lived and died there; we hope it will not be forgotten.

Getting There
Today, only a cemetery remains. To reach the Iatan Cemetery, which was about a mile before reaching the old town; travel west from  Colorado City on I-20 and take the Iatan Exit (which used to lead  you to the old town). Go north about 1 to 1-1/2 miles. The cemetery is on the right. - Mr. & Mrs. Sayles, January 17, 2008
1940s Mitchell County Map showing Iatan near Howard County line
Courtesy Texas General Land Office