Refinery smokestacks ruins
Photo courtesy Dusty Martin, June 2018
History in a Pecan Shell
Ibex has no 19th Century history, appearing in 1921 with the discovery of oil by the Colorado oil company Ibex (hence the name). Eager to exploit the reserves, a huge and costly ($300,000) refinery was constructed. Ibex became a boom town - a magnet for unemployed roughnecks and roustabouts plus their families.

A post office opened in 1923 although it's lifespan was brief. Ibex had the necessary businesses for longevity, including civilizing amenities like a four room school that saw triple duty as a church and meeting house.

Ibex's death was the result of a fire in 1925. Production decreased to a fraction of its previous output and people fled, seeking work in other boomtowns or cities with a more stable economy.

Enough people remained for 48 people to be counted in 1948, but by 1960, it had dropped to a mere 35 residents - a figure it has retained for the 1970, 1980 and 1990 census. It has transformed into an agricultural community but its brief "golden years" are in the distant past. In the mid 1990s the population was somewhere around 25.

Plans for an upcoming Centennial celebration / observation are still under discussion as of September, 2018.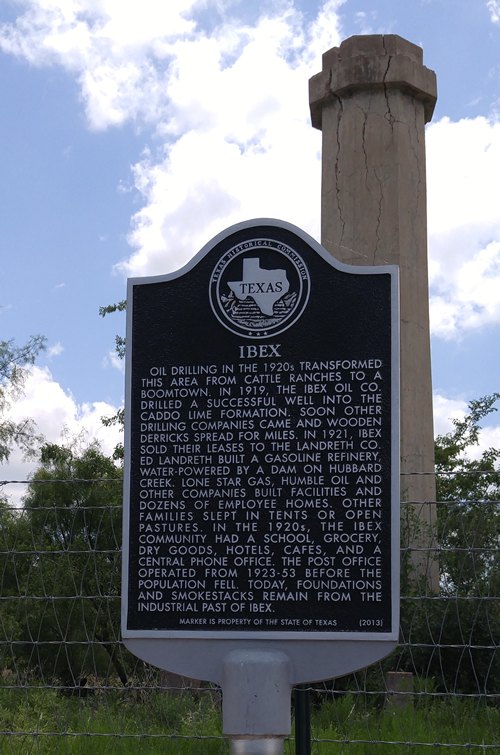 Ibex Historical Marker
FM 601, 9 miles SE of Albany
Photo courtesy Dusty Martin, June 2018
Historical Marker:

IBEX
Oil drilling in the 1920s transformed this area from cattle ranches to a boomtown. In 1919, the Ibex Oil Co. drilled a successful well into the Caddo Lime formation. Soon other drilling companies came and wooden derricks spread for miles. In 1921, Ibex sold their leases to the Landreth Co. Ed Landreth built a gasoline refinery, water-powered by a dam on Hubbard Creek. Lone Star Gas, Humble Oil and other companies built facilities and dozens of employee homes. Other families slept in tents or open pastures. In the 1920s, the Ibex community had a school, grocery, dry goods, hotels, cafes, and a central phone office. The post office operated from 1923-53 before the population fell. Today, foundations and smokestacks remain from the industrial past of Ibex.
(2013)
Ibex smokestack & foundations
Photo courtesy Dusty Martin, June 2018
Smokestacks & foundations
Photo courtesy Dusty Martin, June 2018
Foundations among cactus
Photo courtesy Dusty Martin, June 2018
---
Texas Escapes, in its purpose to preserve historic, endangered and vanishing Texas, asks that anyone wishing to share their local history and vintage/historic photos, please contact us.